Superhero International Costumes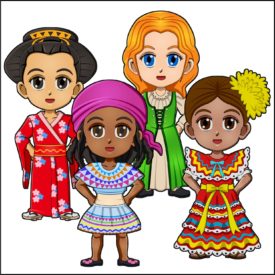 Each of our ten Scout Superheroes have chosen a country for GS World Thinking Day*! Each has a whole program that represents their country. There are free printables, ideas for swapping, crafts, food, event ideas and more. So choose one of these countries if you would want a Super Thinking Day* that is super fun and super easy!
You Need:
Instructions:
Choose your paper doll pieces below. Cut them out. Color if necessary. Glue on clothes and hair.
Superhero Bodies and Hair:
Thinking Day Costumes and Girl Guide Uniforms for Superhero Paper Dolls:
Australia for World Thinking Day

Germany for World Thinking Day
Ireland for World Thinking Day

Madagascar for World Thinking Day

South Korea for World Thinking Day

Switzerland for World Thinking Day

Thailand for World Thinking Day
Save
Save
Save
Save
Save
Save
Save
Save