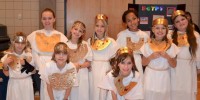 Egypt | Ideas for Thinking Day*
Troop 934 shows off their Egyptian costumes for their celebration.
The Nile is not just a river in Egypt. It is the longest river in the world (more than 4,000 miles). Girls who focus on Egypt will come across this and more facts, but they will REMEMBER the FUN they had dressing up in their costumes, pretending to be Queen Cleopatra and "walking like an Egyptian." MakingFriends®.com has ideas and products to help make your celebration a success.
Fun Fact: Ancient Egyptians loved board games perhaps the most popular was a game of chance known as "Senet".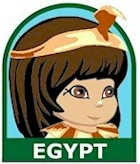 Egypt Patch
2″ Embroidered, Iron-on

$0.99
Cardboard models or even posters of King Tut's sarcophagus and the Great Sphinx will make perfect decorations for Egypt. But the other troops will really crowd around your booth to take a turn at knocking down and rebuilding the great pyramids with Jenga blocks.
A tasty Egyptian snack is baladi flat bread with baba ghanoush or tahini dip.
For an Egyptian craft, offer jewelry making or drawing hieroglyphics, perhaps on small paper-mache boxes.
For a pin idea, consider making Egyptian Mummy pins for swapping.
Fun Fact- Songwriter Liam Sternberg got the idea for the Bangles #1 hit song when he was on a ferry boat, and saw people struggling to keep their balance. The way they held out their arms and jerked around made it look like they were doing Egyptian movements.
Additional ideas can also be found in Middle East Countries / Thinking Day* Ideas.
*MakingFriends®.com is not affiliated with, endorsed by or a licensee of Girl Scouts of the USA