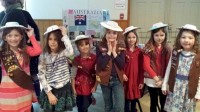 Australia | World Thinking Day Ideas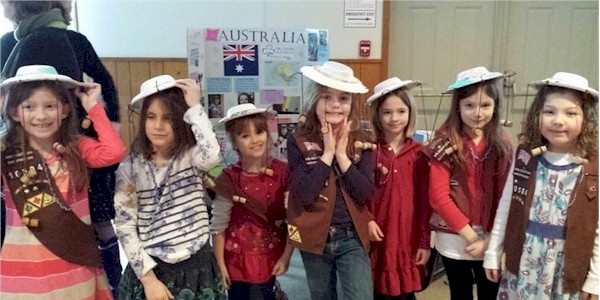 The girls from troop 10504, representing Australia for Thinking Day,  are wearing cork hats to keep away bugs when hiking in the outback.
Australia is a large country with it's own unique culture. The native aboriginals are famous for digeradoos,  boomerangs and their stylized art.
Superhero Freedom will guide your girls with ideas, activities and facts for their World Thinking Day presentation when they use our exclusive Australia Thinking Day Download.
Fun Fact: Do your girls know that it is summer in Australia when we have winter? That means they celebrate Christmas during the summer!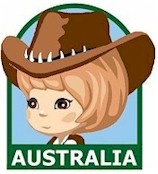 Australia Patch
2″ Embroidered, Iron-on

$0.99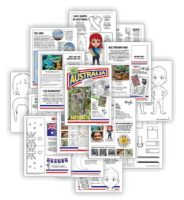 Australia Thinking Day Download
Ideas, activities and facts for your Australia presentation.

$15.00
If your Girl Scouts choose Australia for Thinking Day, they will have plenty of inspiration for costumes and food for a Thinking Day event but you might not want to bring native food like emu or camel dishes for the other troops to try!
To add visual impact to your display the girls can include their own art work such as Sydney Opera House, Australian Kangaroo Dot Painting, Boomerang and Aboriginal Masks.
For SWAP ideas the girls can choose anything from outback kangaroos to coral reef fish. Koalas and crocodiles are always a favorite for Australian SWAPs.
If your troop wants to get creative for Thinking Day they can make Aboriginal masks and Didgeridoos, which are Australian wind instruments.