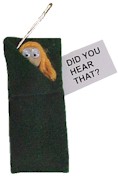 First Camp Out SWAPs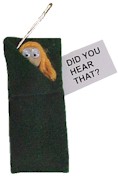 Remember your first camping trip? Make this SWAP to take when you are camping with beginners or pros.
You need:
Felt

Fabric Glue (This is the only type of glue that works well with felt)
Scissors
SWAP Tags (not shown) (optional)
Instructions:
Cut a piece of felt 2″ x 3-1/2″. Fold in half, gluing only edges so it measures 1″ x 3-1/2″. Do not glue the top 1″, fold it down diagonally and glue. Glue a couple of pieces of yarn to the head of a baby flat slotted clothespin to make hair. Glue on wiggle eyes. Slide in doll, glue in place. If you are using optional SWAP tags, write your message on the tag and slide onto the pin. Close pin.
Join our SWAP Sensation and mail your SWAPs to us and we will send you back some from other Girl Scouts.