About Us
My name is Terri and I'm the creator of MakingFriends.com. As a child, I was a strange combination of overachieving first-born and creative rebel. I was hard working and industrious but hated structure and control.
Not only did I color inside the lines but all my strokes went in the same direction with uniform pressure and perfect coverage. Yep, I filled my Disney coloring book with beautifully colored purple-faced Cinderella's and lime green Dumbos.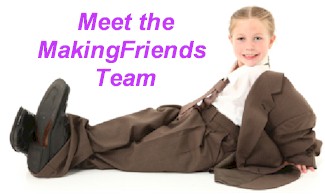 As I got older, I spent a lot of time in Mom's kitchen — but not cooking. Salt dough, candle making and batik projects littered and stained her counter tops. (Good thing Mom didn't like to cook either.)
The more time I spent on craft projects, the less time I spent on school projects. As an overachiever, I continued getting "A"s but hated every minute of it. Nothing we learned in school was interesting. Of course, this was "back-in-day". We had no computer graphics or web design classes.
Started as a learning experience in 1997, MakingFriends.com has been a meandering journey that mirrors the last 12 years of my life. The web site just evolved based on what I felt like doing at the time. I guess it has been more of a frolic than a journey. Fortunately, my overachieving side came along for the ride and a dabble with new skills became a successful business.
These days, I'm not coloring any more (and still not cooking) but I continue to make things including web sites. Take a browse around my other sites:
No one likes to frolic alone and these are some of the wonderful people who have joined me along the way. Without their help and support this would have been a very boring adventure.
My husband, Jim, is not only my partner in life but also in business.
He is very good at managing the day-to-day details of our house and our business. Under his watchful eye, no receipt goes unposted, no invoice goes unpaid and no bed goes unmade. As a child, Jim didn't color much but he always, always colored inside the lines. Black is his favorite color.
My daughter, Jamie, is now officially part of the team.
She's the social media editor for our Facebook page and does all the image editing. She also has a talent for designing patches and helping with new craft ideas. Jamie even came up with the web site name when she was 2 years old. She would ask to "make friends" when referring to the paper dolls that eventually became the spark for developing this web site.
My Mother, Betty, is the editor for FreeKidsCrafts.com.
She recently retired from her career as an administrative assistant to care for her disabled husband. But Betty still manages to to grow the web site, tweet and post on Facebook from her home office. Mom taught me how to "silly color". She would point to a spot on the page, close her eyes, and pick a color. That's how it all began. I have Mom to thank for lime green Dumbos.
Faster then a speeding credit card processor, more powerful than a rotary cutter, able to leap tall fed ex boxes in a single bound.
Yes, it's Stephanie! Fearless Stephanie will take on any job and do it with a smile on her face. She is webmaster for ScoutSwaps.com, pinmaster for our pinterest boards, and has 100 other duties at our warehouse. Steph manages just about everything at our store from purchasing to interviewing for new associates.

She may be quiet, but Ally can rock out to Ozzy with the rest of the metal heads. When she's not banging her head, Ally is making kits for us and getting your orders ready to ship. When she's not doing that, she's at school, studying hard or playing with her rats.
Jodi is our Girl Scout expert. She runs a multi-level troop of 40 girls.
Her experience helps us to make your time as a leader easier. Read her Girl Scout Leader 411 blog for ideas, like us on Facebook and follow us on Twitter and Pinterest for everything Girl Scout.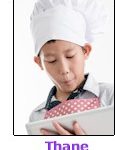 You have Thane to thank for our cool new look. He worked for months problem solving and tweaking until everything was perfect. No only can he code, Thane can also bake, braid hair and paint fingernails– important skills he has mastered as a stay-at-home dad.

Ellen is our quality control manager. She makes sure that your orders arrive without mistakes. Ellen is also our resident extrovert and chatter box. You never know what her hair color will be. She changes it on a monthly basis.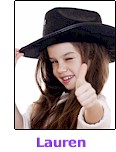 If you ever stop by our shop on a Tuesday, you'll be treated to country music. Lauren likes to two-step while she makes Badge in a Bag kits and Tuesday is the day she picks the music and country really gets her moving. You'd be amazed at how fast those kits fill the shelf.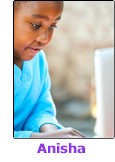 Anisha might be one of the "new girls" but she aced the position right away. Smart and creative, she is someone who always steps up and does a great job. Her background in graphic design will be a big help when the time comes to design new patches.

Adrianna is our newest associate. She's quiet, shy and demure… or is she? Born in Brazil, we expect she knows how to party but is keeping it a secret. For now, she proven to be a good kit maker. We'll keep you posted about the other.