Honor Flight Patch Program
Product Number: MF-4521A
Your girls will appreciate your providing an opportunity to thank those getting ready to board or coming home from their Honor Flight. Girl Scouts and many other groups gather when veteran's make their trip to and from an Honor Flight trip to visit a war memorial. This patriotic fun patch is a special addition to any Girl Scout vest.
822 in stock
Buy More And Save!
| 1-249 | 250-499 | 500+ |
| --- | --- | --- |
| $0.69 | $0.59 | $0.49 |
Product Number:
MF-4521A
Categories:

PATCH STATS, Fun Patches, Boy Scouts Too, New Patches, Patch Program, Community Service, Service Trips, Patriotic, Events, Trips & Tours, Community Service Trips, Daisy Fun Patches, Brownie Fun Patches, Junior Patches, Cadette Fun Patches, Senior & Ambassador Patches
Tags: Celebrating Community, Community Serve, events, Patriotic, trips
Description
Additional information
Reviews (0)
Description
2″ Iron-On Embroidered Girl Scout Patch.
Honor Flights are conducted by non-profit organizations to transport United States military veterans to Washington, D.C. to see the memorials of the wars they fought in at no cost to the veterans. Download these suggested requirements for our patch program.
To find your local Honor flight hub: honorflight.org/regional-honor-flight-hubs/
How Daisy and Brownie Girls can earn the Honor Flight Patch:
Honor a Veteran
Most Honor Flights occur in the spring and fall. Find out when local veterans will be flying out and returning home. Contact the hub coordinator to find out what you can do. Often just the presence of a group of young people showing their respect is a appreciated. A sign thanking the Veterans for their service and displaying  the flag will be welcomed.
How Junior and Cadette Girls can earn the Honor Flight Patch:
Get Friends and Family Involved
Learn more about the Honor Flight Network. Make sure our veterans know they are not forgotten. Set a goal to get as many people involved as possible. Consider making a donation from your cookie money to help a local veteran.
How Senior and Ambassador Girls can earn the Honor Flight Patch:
Get the Community Involved
Use local social media to make sure everyone knows about Honor Flights. Contact your local community paper to ask them to write an article about one of the veterans. Learn to write a press release and submit photos after the event.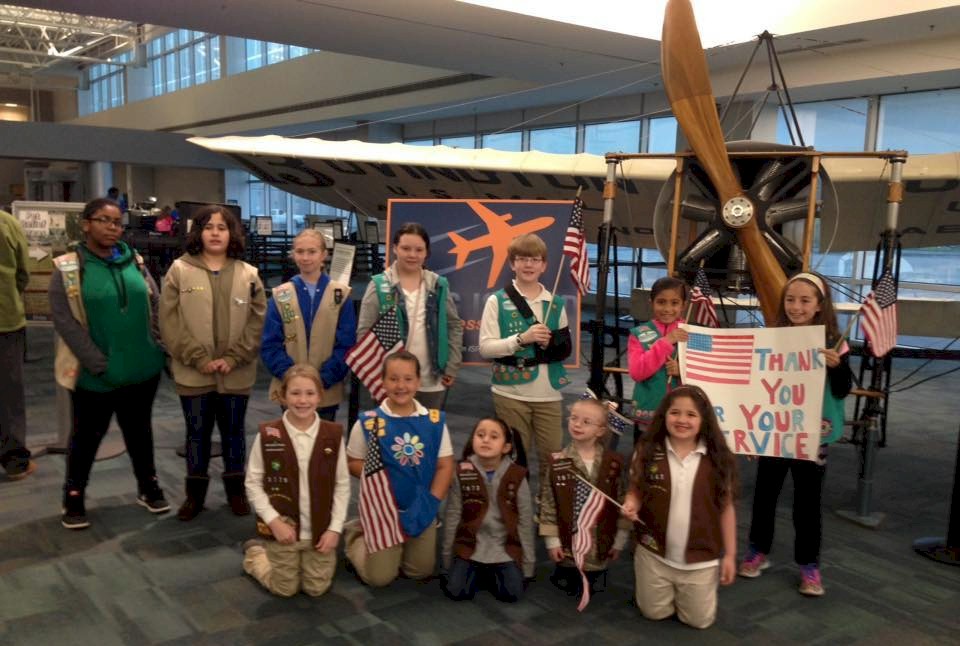 Additional information
| | |
| --- | --- |
| Weight | .01 lbs |
| Dimensions | 1 x 1 x 1 in |