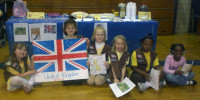 England | World Thinking Day Ideas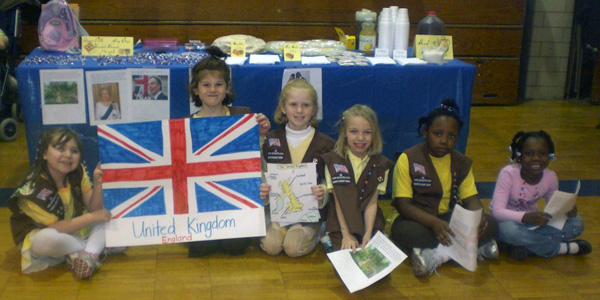 Troop 70954 celebrating England for Thinking Day.
England is home to Pax Lodge- one of five WAGGGS world centers which offer Girl Scouts and Girl Guides comfortable, inexpensive, and safe accommodations. Located just 20 minutes by subway from the center of London, it is  an ideal base for exploring the city.
England is a member of WAGGGS as part of the United Kingdom.  The United Kingdom includes England, Northern Ireland, Scotland and Wales.
Fun Fact: England includes many small islands.
England Patch
2″ Embroidered, Iron-on

$0.99
Famous English men and women such as The Beatles, Fergie, Simon Cowell, Princess Diana and other royals probably sipped tea and nibbled crumpets or filled their bellies with fish and chips. So, Girl Scout troops that adopt England for Thinking Day will have their pick from a huge variety of fun costumes and decorations for an event. England is known for Big Ben, London Bridge and beautiful rose gardens all of which can add some great visual impact to your presentation. Plus, this country choice comes with a full song play list and built-in menu if you want themed music and food for Thinking day.
For English craft ideas, let the Royal family be your inspiration. Daisy and Brownie Girl Scouts can dress-up as princesses, make a beaded tiara to wear and do mini tiara SWAPS for England. Girl Scout Juniors and older girls might still be interested in the crown jewels, or an England guitar SWAP could be more their style.  Maybe they'd like to try dressing up as punk rockers which England is also known for.
If your girls are more athletic, perhaps that will be the direction they want to go with their Thinking day activities. Sports play a prominent role in English life. Popular team sports are soccer, field hockey, cricket, rugby, badminton and baseball. Tennis, boxing, golf, cycling, motorsports and horse racing also have strong followings. Likewise, if younger troops are playing games for Thinking Day, "London Bridge is Falling Down" is a simple choice.
If you are able to have a portion of your celebration outdoors, you can have Bonfire Night (or Guy Fawkes Day). This annual celebration held on November 5th marks the anniversary of the discovery of a plot to low up the Houses of Parliament in London. Since the celebration includes eating sweets around the fire, you can serve edible sparklers. Dip pretzel sticks, bread sticks or biscuits in melted chocolate and roll in sprinkles. 
Finally, don't forget a rubber stamp to mark your visitors' Thinking Day passports. Appropriate English stamps could show a local landmark like the Tower of London or Big Ben, or you can reflect your princess, music or sports theme for Thinking Day.
Additional ideas can also be found in European Countries / World Thinking Day Ideas.