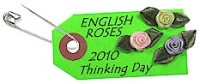 English Rose SWAPS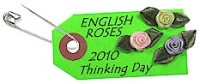 Make pretty SWAPs to represent England for Thinking Day.
You need:
Ribbon Roses
Fine Point Marker
Instructions:
On the back of your SWAP tag write your first name, troop, city, state and age. On the front, glue on three ribbon roses. Write "English Roses", "Thinking Day" and the year. Add a pin.  
Join our SWAP Sensation and mail your SWAPs to us and we will send you back some from other Girl Scouts.