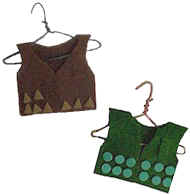 Girl Scout Vest SWAPs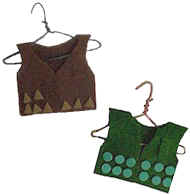 Itty bitty vests make great SWAPs for any level of scouting!
You need:
Felt

Craft Wire

Fabric Glue
(This is the only type of glue that works well with felt)

Scissors

Hole Punch and Foam Scraps

Stapler

Safety Pins (not shown)

SWAP Tags (not shown) (optional)
Instructions:
Cut a 12″ piece of craft wire. Bend into the shape of a 3″ hanger using photo above as a guide. Trim off excess. Print Pattern. Staple to a piece of felt and cut out. Fold at the shoulders. Glue side seams. Use scrap foam to make badges or try-its and glue on to vest front. Slide onto hanger. Add a pin and a tag for swapping.

Join our SWAP Sensation and mail your SWAPs to us and we will send you back some from other Girl Scouts.