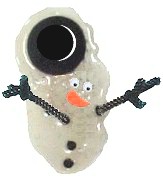 Melted Snowman SWAPs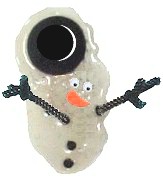 Make melted snowmen complete with top hats!
You need:
White Card Stock

Low Temp Glue Gun or Tacky Glue
Black Pipe Cleaners

Scissors

SWAP Tags (optional) (not shown)
Instructions:
Cut pipe cleaner into four pieces and shape into two arms. Squeeze out a puddle of hot glue or tacky glue on a piece of white card stock. You have to work fast with hot glue and place pieces with tweezers or a toothpick. Tacky glue is easier but needs to dry overnight. While glue is still wet press in a mini top hat, a craft foam nose, wiggle eyes, pipe cleaner arms and black E beads for coal buttons. Cut card stock around snowman. Glue a pin to the back. If you are using optional SWAP tags, write your message on the tag and slide onto the pin. Close pin.
Join our SWAP Sensation and mail your SWAPs to us and we will send you back some from other Girl Scouts.