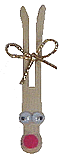 Reindeer SWAP Pins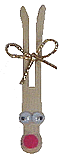 This cute little pin was sent to us by Cindy from Pittsburgh, PA and we liked it so much we had to post it!
You need:
Low Temp Glue Gun
Gold Cord
Scissors
1/4″ Red Pompom
Swap Tags (not shown) (optional)
Instructions:
Turn a baby flat slotted clothespin upside down. Glue on two 6mm wiggle eyes and a red pompom for nose. Tie a small bow or gold cord to one antler. Glue a craft pin on the back. Write your message on the SWAP tag and slide on the tag. Close pin.

Join our Swap Sensation and mail your swaps to us and we will send you back some from other Girl Scouts.