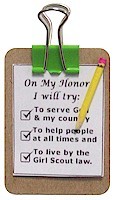 Mini Clip Board SWAPs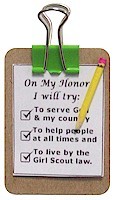 These tiny little clip boards hold a checklist to remind us about the the Girl Scout promise.
You need:
Cardboard (recycle the back of a notebook)
Small Binder Clips (From Office Supply Store)
Skewers
Markers
Scissors
Instructions:
Print clip board printable. Cut out mini pages. Cut cardboard slightly bigger than the paper. Round edges like photo above. Cut 1-1/2″ pieces from the tips of skewer. Cut some of each point off so it is not too sharp. Use markers to color to resemble a pencil. Glue to clip board. Use a fine point permanent marker to write your name and swap information on the back. 
Join our SWAP Sensation and mail your swaps to us and we will send you back some from other Girl Scouts.