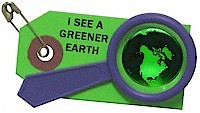 Mini Magnifying Glass SWAPs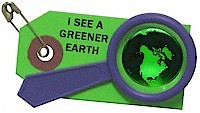 What can you see?
You need:
Low Temp Glue Gun

Scissors

Glue Stick

Fine Point Marker
Instructions:
On the back of a SWAP tag, write your name, age and troop number. Print and cut out a 3/4″ picture of the earth. Glue to the  front of the SWAP tag. Glue magnifying glass on the tag using low temp glue gun. With small handwriting, write "I see a greener Earth" on the front. Open pin and slide through the SWAP tag then close pin. 
Join our SWAP Sensation and mail your SWAPs to us and we will send you back some from other Girl Scouts.