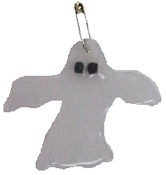 Ghost SWAPs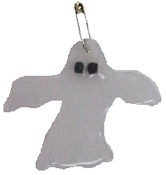 Just squeeze 'em, peel 'em and pin 'em! Make a whole bunch.
You need:
Low Temp Glue Gun

Wax Paper

SWAP Tags (not shown) (optional)
Instructions:
Use a low temp glue gun a squeeze out a ghostly outline. Fill in the middle. Let dry, peel off. Drop on two black E beads for eyes. Trim up with scissors. If you are using optional SWAP tags, write your message on the tag and slide onto the pin. Close pin.
Join our SWAP Sensation and mail your SWAPs to us and we will send you back some from other Girl Scouts.