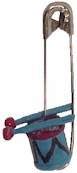 Mini Drum SWAPs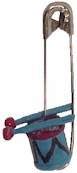 These little drums are a really unique pin to make and swap or give as little mementos.
You need:
Mini Wooden Spools
Paint and Brush
Low Temp Glue Gun or Ultimate Craft Glue
Toothpicks
Permanent Black Marker
SWAP Tags (not shown) (optional)
Instructions:
Paint a mini spool light blue and the top red. Let dry. Draw a design around the outside of the spool with a permanent marker. Break a tooth pick in half. Paint both halves. Glue an "e" bead to end of each to make a drumstick. Open up a coiless pin all the way out. Slide the painted spool on the pin. Glue the drumsticks to the spool. If you are using optional SWAP tag, write your SWAPping information on the tag and slide onto pin. Close pin.
Join our SWAP Sensation and mail your SWAPs to us and we will send you back some from other Girl Scouts.