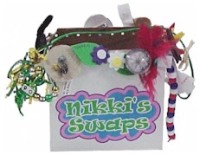 SWAP Box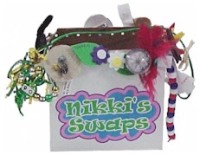 This SWAP Box does double duty. It holds the SWAPs you make inside and you can pin the SWAPs you collect around the top.
You need:
Small Box
Green Satin Cord
Markers or Colored Pencils
Instructions:
Cut the top off a small box. Decorate it. Punch holes all around the top. Punch two additional holes (one on each side) 1″ from the top to attach a handle. Cut an 18″ piece of satin cord, tie securely to the box for the handle.
Store your SWAPs inside and pin your collected SWAPs around the top. 
Join our SWAP Sensation and mail your SWAPs to us and we will send you back some from other girls.