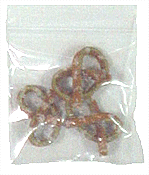 Mini Bag of Pretzels SWAPs
This pretzel SWAP just makes me smile! Make them for Thinking Day or International SWAPs if you are representing Germany.
You need:
White Crystal Glitter

Scissors

Safety Pins (not shown)


Tan Suede Cord

Tacky Glue

Low Temp Glue Gun

Toothpick

SWAP Tags (not shown) (optional)
Instructions:
Cut suede cord to 3-1/2″ pieces. Twist like a pretzel adding a couple of dabs of hot glue to keep in place. Use a toothpick to apply small dots of tacky glue. Sprinkle on glitter. Shake off excess. Put three pretzels in a bag. Add a pin. If you are using optional SWAP tags, write your message on the tag and slide onto the pin. Close pin.

Join our SWAP Sensation and mail your SWAPs to us and we will send you back some from other Girl Scouts.