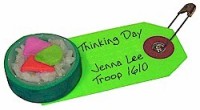 Sushi SWAPs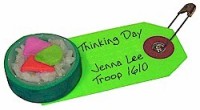 Make them to represent Japan for Thinking Day.
You need:
Small Cap to a Water Bottle

Rice

Scraps of Craft Foam

Green Permanent Marker

Low Temp Glue Gun

Pen or Fine Point Marker

Scissors
Instructions:
Fill the bottle cap 3/4 full with rice. Cover with a layer of tacky glue. Sprinkle on a final layer of rice. Let dry. Cut pieces of craft foam to resemble the fish and vegetables. Glue to the rice as shown. Cut a strip of green craft foam to fit around the bottle cap. Glue around the cap. Color the outside with a darker green marker. Hot glue to tag. Write your message on the SWAP tag. Open pin and slide through the SWAP tag then close pin. 

Join our SWAP Sensation and mail your SWAPs to us and we will send you back some from other Girl Scouts.