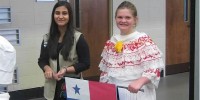 South American Countries | World Thinking Day Ideas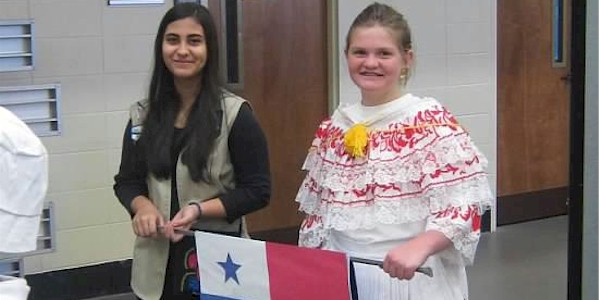 Troop 9327 from Montgomery, Alabama representing Panama in the parade of nations at the Service Unit Thinking day event.
Fun facts to help get your troop started on a Girl Scout Thinking Day or International project for a country in South America.
Thinking Day Ideas from our Readers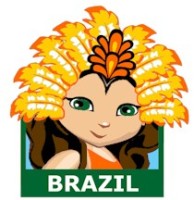 $0.99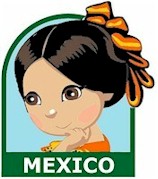 Mexico Patch
2″ Embroidered, Iron-on

$0.99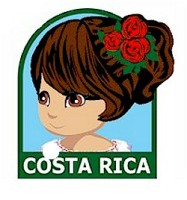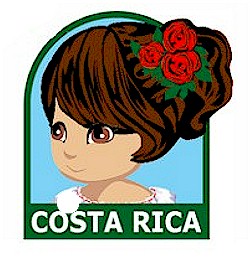 Costa Rica Patch
2″ Embroidered, Iron-on

$0.99
Girl Scouts who choose a South American country for Thinking Day may want to practice a few Spanish phrases, as it is the main language everywhere except Brazil where Portuguese is the national language and Surinam where the official language is Dutch. Many South Americans also speak English as a second language.
When planning South American food for Thinking Day, keep in mind that tropical fruits, corn, grilled beef and fresh fish are plentiful. Llama, sheep and Guinea pig are also popular meat in some South American countries- though perhaps not appropriate snacks for Thinking Day.
Popular South American costumes for Thinking Day include ruffled blouses, wide flaring skirts, colorful woven shawls.
Fun Facts: South America's rain forests are some of the wettest places on the earth and the Atacama desert in Chile is considered the driest. This continent also boasts the world's highest waterfall (Angel Falls), the largest river (Amazon) and tallest mountain range (Andes).
See our separate Thinking Day pages for these countries in and around South America:
We also have SWAPs, crafts and trading cards for these countries in and around South America:
Argentina
Bolivia
Chile
Colombia
Costa Rica (Central America)
Guatemala (Central America)
Guyana
Panama (Central America)
Peru
Suriname
Uruguay (not a WAGGGS  member)
Venezuela