Heart Smart Cheerios Friendship Swap Kit – LIMITED SUPPLY !
Product Number: MF-10261
Send a positive healthy message with crafts that are sure to get noticed!
Kit makes 30
In stock
Product Number:
MF-10261
Categories:

Complete Kits, Discontinued Items, Food, Food Trips, Healthy Habils, Pin Kits for Swapping, SWAP STATS
Tags: Cadette Badges, Cadette Eating for Beauty, Comparison Shopping, Food SWAPs, Junior Staying Fit, My Best Self, Senior Sow What
Description
Additional information
Reviews (0)
Description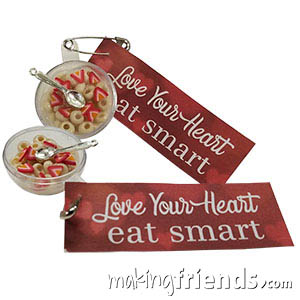 Cheerios Friendship Swap Kit Includes:
30 Safety Pins — 1″
15 Round Plastic Containers — 1″
30 Mini Spoons — 1″
30 Printed Tags "Love Your Heart, Eat Smart" — 2.75″
1/4 oz. "Cheerio" Seed Beads — 4.5mm
Mini Clay Strawberries
Instructions:
Open round containers. Fill about 1/2 way with white tacky glue. Sprinkle in some cheerios. Use a toothpick to press them to the down and to the side so you see them through the "milk" against the edges of the "bowl". Sprinkle another layer of "cheerios" on top of the "milk". Pour a little "milk" over the "cheerios". Let the top layer dry. A hair dryer will help speed up the drying process. Hot glue (not included) a spoon and a few strawberries in place. Fold back and forth on the perf lines. Gently tear apart. Write your SWAP information on the back. Pin to the bowl.
.
Additional information
| | |
| --- | --- |
| Weight | .5 lbs |
| Dimensions | 1 × 1 × 1 in |