Endangered Animal Advocate Service Patch
Product Number: YS-1530M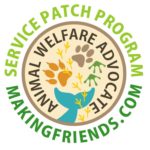 This 2″ embroidered iron-on patch can be awarded as part of our Animal Advocate Service Patch Program. Find out more about this program.
In stock
Buy More And Save!
| 1-249 | 250-499 | 500+ |
| --- | --- | --- |
| $0.69 | $0.59 | $0.49 |
Description
Additional information
Reviews (0)
Description
See the suggested requirements for earning this patch.

About the Animal Welfare Service Patch Program from Youth Strong
Who can earn these patches and pins?
Anyone who is concerned with the welfare of animals. This program is designed to be flexible for anyone and any group including Girl Scouts*, Boy Scouts, youth groups, families and individuals. Patches can be earned with multi-levels and are based on ability and time invested – not necessarily the age of the achiever. You can progress through the levels — Friend, Volunteer, Advocate — earning one patch per year or choose to do them in a series culminating in a larger service project. Those who choose to do so can complete all five areas of interest — Birds, Pets, Habitats, Sea Life, Endangered — and earn the Animal Welfare Service Patch. More experienced achievers can earn the Delegate pins.
This Endangered Animal Advocate Service Patch is part of our "Advocate" level patches. This level of our patch program provides an opportunity for achievers to reach out into their community to get others involved. Program organizers can give these patches for recognition or they can be earned by completing requirements one to four below. This level is best for teens to adult and for younger children to complete with a parent or mentor. It is a natural progression from our "Volunteer" level patches, for troops of teen scouts and teen youth groups as well as individual teens and adults.
Can this patch be earned other ways?
Yes. Based on your geographic area and the ability of the achiever, other requirements may be more suitable. Use your own judgement for what is best for your group.
How much time does it take to earn this patch?
Generally, our Endangered Animal Advocate Patch can be earned in four to eight hours but consider making a regular commitment to advocate for endangered animals.
—————————————-
Endangered Animal Advocate Patch Program Suggested Requirements
Completing one of the volunteer level patch programs below is a suggested prerequisite for earning your Endangered Animal Advocate Patch. Your volunteer experience will provide you with the knowledge and skills you need to advocate for endangered animals. You can also opt to complete the volunteer requirements during your advocacy project.
—————————————-
Requirement 1: Choose a Threatened or Endangered Animal Issue to Advocate For
The Endangered Species Act (ESA) defines an endangered species as "any species which is in danger of extinction throughout all or a significant portion of its range." It defines a threatened species as "any species which is likely to become an endangered species within the foreseeable future throughout all or a significant portion of its range." There are several sub classifications also. The International Union for Conservation of Nature has set up criteria for classifying.
Discussion Points:
Based on your discussion, what threatened or endangered animal issue will you advocate for? Some ideas:
Educate your community about local threatened animals and let them know what they can do about it.
Educate travelers about souvenirs which impact threatened animals.
Join the WWF in a current action plan.
Raise money to symbolically adopt an endangered or threatened animal at your local zoo. (Your organization may not allow you to raise funds, check first.)
—————————————-
Requirement 2: Plan and Carry Out an Advocacy Program
Now that you've chosen your issue to advocate for it's time to get started. Helpful link: How to Advocate for your Cause
Who do want to reach? Some ideas:
How will you reach them? Some ideas:
Talk to them. Consider wearing a button as a conversation starter.
Hand out flyers. Consider setting up a booth to collect donations if allowed.
Hang tags on doors and mail boxes.
Make posters.
Reach out with social media such as Facebook.
Send a press release to your local newspaper or school newspaper. Helpful link: How to write a press release.
—————————————-
Requirement 3: Thank Your Community
Always remember to thank those who helped those who helped with your advocacy program.
Ways to say Thank You:
Personally thank individuals and businesses who helped. A hand written letter is always nice. Helpful link: How to write a thank you letter.
Thank the community as a whole with posters.
Create a follow up press release and include the names of individuals and businesses who participated.
Thank the community as a whole on social media.
—————————————-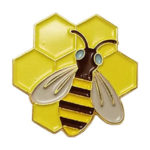 Once you've earned this patch you may want to earn our Threatened Species Delegate Pin.
©2018 MakingFriends.com, inc.
Additional information
| | |
| --- | --- |
| Weight | .1 lbs |
| Dimensions | 1 × 1 × 1 in |
You may also like…