Bird Sanctuary Volunteer Service Patch
Product Number: YS-1120M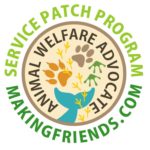 This 2″ embroidered iron-on patch can be awarded as part of our Animal Advocate Service Patch Program. Find out more about this program.
In stock
Buy More And Save!
| 1-249 | 250-499 | 500+ |
| --- | --- | --- |
| $0.69 | $0.59 | $0.49 |
Description
Additional information
Reviews (0)
Description
See the suggested requirements for earning this patch.
About the Animal Welfare Service Patch Program from Youth Strong
Who can earn these patches and pins?
Anyone who is concerned with the welfare of animals. This program is designed to be flexible for anyone and any group including Girl Scouts*, Boy Scouts, youth groups, families and individuals. Patches can be earned with multi-levels and are based on ability and time invested – not necessarily the age of the achiever. You can progress through the levels — Friend, Volunteer, Advocate — earning one patch per year or choose to do them in a series culminating in a larger service project. Those who choose to do so can complete all five areas of interest — Birds, Pets, Habitats, Sea Life, Endangered — and earn the Animal Welfare Service Patch. More experienced achievers can earn the delegate pins.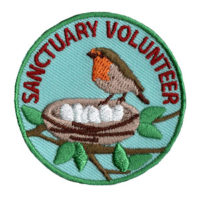 This Bird Sanctuary Volunteer Patch is part of our "Volunteer" level patches. This level of our patch program provides an opportunity for achievers to join in to give their time to a service project. Program organizers can give these patches for recognition or they can be earned by completing requirements two to five below. There is no age suggestion for this part of the program. It is a good opportunity for parent/child volunteering, for progression from our "Friend" level patches, for troops of any level or for service minded individuals and groups.
The first requirement is an optional activity designed for an educational/recreational activity.
Can this patch be earned other ways?
Yes. Based on your geographic area and the ability of the achiever, other requirements may be more suitable. Use your own judgement
for what is best for your group.
How much time does it take to earn this patch?
Generally, our Bird Sanctuary Volunteer Patch can be earned in three to four hours but consider making a regular commitment to volunteer.
—————————————-
Bird Sanctuary Volunteer Patch Program Suggested Requirements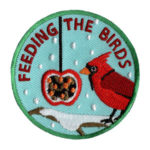 Completing the Feeding the Birds Patch program  is a suggested prerequisite for earning your Sanctuary Volunteer Service Patch. Your bird-feeding experience will help provide you with the knowledge needed to volunteer. You can also opt to complete the Feeding the Birds Patch program requirements while you volunteer.
Requirement 1: Word Search (Optional)
Learn about why we need birds and bird sanctuaries by completing this word search.
—————————————-
Requirement 2: Locate Local Bird Sanctuaries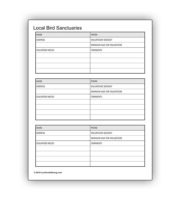 A bird sanctuary is a habitat set aside to keep birds from harm. Some sanctuaries are for specific threatened species. Some are for rehabilitation. They can also be for education and/or entertainment. Find a bird sanctuary to volunteer your time.
Download this worksheet to help you keep track of your research.
Research Points to Consider:
Are they in need of volunteers?
What do they need help with?
Are there age restrictions suitable for you/your group?
Is the location suitable for commuting from your location?
Is this on-going or one-time? Can you commit to the needs?
Are there specific dates/times that will work for you/your group?
—————————————-
Requirement 3: Visit a Bird Sanctuary
Using your research, choose one or more bird sanctuaries to visit. Talk to the volunteer coordinator to find out if you are a good fit for them.
Discussion points:
If applicable, make sure the hours are flexible.
Do we need any special tools or training?
Are there any supplies we should bring?
Are there DIY projects we can make at our location to bring to the sanctuary? See ideas below.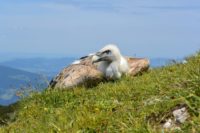 Things to Make for Bird Sanctuaries:
—————————————-
Requirement 4: Volunteer Your Time for a Bird Sanctuary
 Complete the agreed upon volunteer commitment.
—————————————-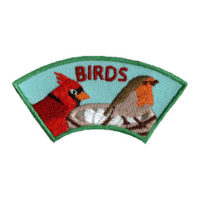 Once you've earned this patch you may want to earn our Bird Advocate Service Patch.
©2018 MakingFriends.com, inc.
Additional information
| | |
| --- | --- |
| Weight | .1 lbs |
| Dimensions | 1 × 1 × 1 in |