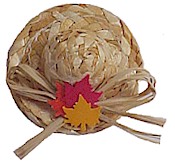 Mini Autumn Hat SWAPs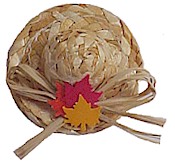 These pretty little hats make great SWAPs. 
You need:
Maple Leaf Hole Punch
Card Stock
Low Temp Glue Gun
Raffia
Scissors
SWAP Tags (not shown) (optional)
Instructions:
Make a small bow out of a piece of raffia. Glue to hat. Punch out some maple leaves, glue to hat. Glue on a pin. If you are using optional SWAP tags, write your message on the tag and slide onto the pin. Close pin.
Join our SWAP Sensation and mail your SWAPs to us and we will send you back some from other Girl Scouts.