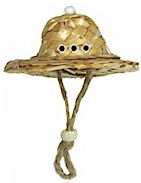 Mini Pith Hat SWAPs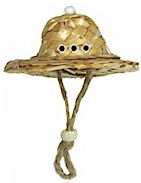 Decorate mini straw hats and turn them into pith hats. Add a pin to make a SWAP for Australia or Africa.
You need:
Instructions:
Cut a 5″ piece of hemp. Tie a knot 1/2″ from the center. String a mini pony bead on to both ends. Push up to the knot. Glue an end to each side of the bottom of the hat. Glue on E beads to make it look like a pith hat. Hot glue on a pin. If you are using optional SWAP tags, write your message on the tag and slide onto the pin. Close pin.
Join our SWAP Sensation and mail your SWAPs to us and we will send you back some from other Girl Scouts.