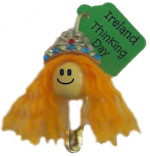 Ireland Bead Head SWAPs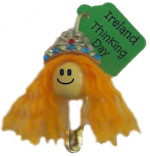 Irish princess SWAPs are just right for Thinking Day.
You need:
Tacky Glue or Low Temp Glue Gun

Pen or Fine Point Marker

Yarn

Scissors

SWAP Tags (optional)
Instructions:
Cut yarn pieces for the hair and glue on top of the barrel bead. Glue one of the mini tiaras onto the top of the barrel bead. Draw on the face. Open up the coiless pin all the way. Slide on the barrel bead. Write your name, event, city state and troop on a SWAP tag. Slide in on to the pin.

Join our SWAP Sensation and mail your SWAPs to us and we will send you back some from other Girl Scouts.