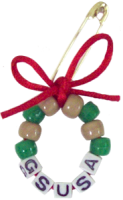 GSUSA Wreath SWAP Pins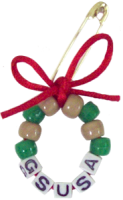 Have your Girl Scouts get into the holiday spirit with this wreath SWAP.
You need:
Instructions:
Cut a piece of red satin cord. Slide on two tan and two green pony beads then the letters "GSUSA" followed by two tan and two green pony beads. Make a bow using the extra cord. Open the pin and slide through the satin cord. Write your message on the SWAP tag and slide on the tag. Close pin. 
Join our SWAP Sensation and mail your SWAPs to us and we will send you back some from other Girl Scouts.