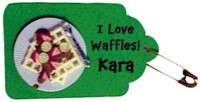 Girl Scout Waffle SWAPs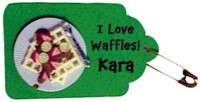 Yummy SWAP! Make these cute SWAPs to trade.
You need:
Instructions:
Glue the poker chip onto the SWAP tag. Cut two pieces of the plastic canvas and glue them to the poker chip. Use brown paint for the syrup. Before the paint dries sprinkle some of the mini fruit onto the paint. Glue on the fork. Write your message on the tag. Slide the tag onto the pin and then close pin. 
Join our SWAP Sensation and mail your SWAPs to us and we will send you back some from other Girl Scouts.