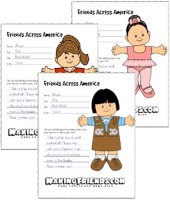 Friends Across America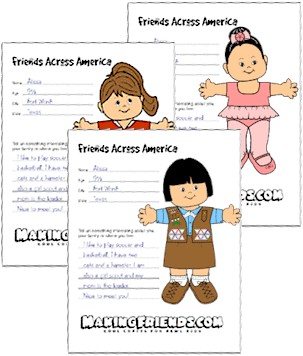 Join our "Friends Across America" Program. It's fun! It's free! Start today and you'll have new "Friends" from all around the county in just a couple of weeks!
You need:
One or More Paper Doll Friends That
Look Like You

Two Large 9″x 12″ Envelopes

Stamps

Scissors

Glue Stick

Binder
Instructions:
Make up to ten "Friend" that look like you. They don't have to be all the same. Please do not send photo copies. Each "Friend" can be a different part of your life. Glue each "Friend" to a worksheet. Fill out the information. Don't forget to include something interesting about yourself. You can also do this with your Girl Scout troop and each girl can make one and send them in together.
Put your address on a large envelope with four stamps. Fold it up and put it in another large envelope with your finished worksheets (up to 10). Mail the whole thing to us at:
MakingFriends Across America
653 Old Willets Path
Hauppauge, NY 11788
For each worksheet you send us, we will send you one made by someone else. You can get up to ten new and different "Friends" sent each time. There is no limit to the number of envelopes you can send to us.
Collect the "Friends" we send you in binder. You can plot them on a map even more fun!
Note: Please remember you're self-address stamped envelope! Please no photo copies!