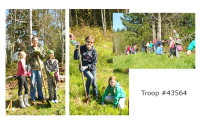 Earth Day and Outdoor Service Projects

Earth Day is a great opportunity to get the girls outside and doing community service!
Your girls can help make the world a better place on Earth Day! Clean up and planting projects are a great way to celebrate. Learning about recycling and saving energy are great ideas too. These Earth Day activities are sure to get your girls thinking about the environment.
If you are planning a celebration for a Girl Scout holiday take a look at our Scout Holidays page.
Help your scouts remember important dates with our free printable calendar especially for Girl Scouts. Important Girl Scout dates are already labelled in green.
Fun Fact: Earth Day is celebrated April 22nd world wide.
Petals, Badges and Journeys Can Incorporate Earth Day