Sea Life Delegate Pin
Product Number: YS-1200M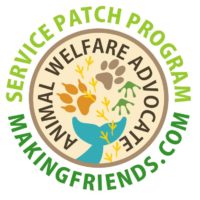 1″ enamel whale pin with secure clutch back.
These pins can be given as awards in our Animal Welfare Service Program or as gifts to program sponsors.
In stock
Description
Additional information
Reviews (0)
Description
See the suggested requirements for earning this patch.

About the Animal Welfare Service Patch Program from Youth Strong
Who can earn these patches and pins?
Anyone who is concerned with the welfare of animals. This program is designed to be flexible for anyone and any group including Girl Scouts*, Boy Scouts, youth groups, families and individuals. Patches can be earned with multi-levels and are based on ability and time invested – not necessarily the age of the achiever. You can progress through the levels — Friend, Volunteer, Advocate — earning one patch per year or choose to do them in a series culminating in a larger service project. Those who choose to do so can complete all five areas of interest — Birds, Pets, Habitats, Sea Life, Endangered — and earn the Animal Welfare Service Patch. More experienced achievers can earn the Delegate pins.
This Sea Life Delegate Pin is part of our "Delegate" level. This level of our program provides an opportunity for achievers to organize service projects for others to participate in.  It is a natural progression from our "Advocate" level, for troops of older teen scouts and teen youth groups. Individual teens with a mentor and adults can also earn this pin. This is also an excellent opportunity for families to work together to serve the community.
Can this pin be earned other ways?
Yes. Based on your geographic area and the ability of the achiever, other requirements may be more suitable. Use your own judgement for what is best for your group.
How much time does it take to earn this pin?
Generally, our Sea Life Delegate Pin can be earned in 15 to 25 hours but consider making a regular commitment to advocate for marine life.
—————————————-
Earning the Sea Life Delegate Pin
Completing the Sea Life Advocate Patch program is a suggested prerequisite for earning your delegate pin. Your advocate experience will provide you with the knowledge and skills you need to successfully manage your sea life action project. You can also opt to complete the requirements with your participation during the administration of your project.
—————————————-
Requirement 1: Choose a Sea Life Action Project
Points to consider:
Revitalize a waterside park.
Give threatened turtles a head start. Helpful link: A Turtle's Head Start
Restore a coral reef. Helpful Link: Restoring Coral Reefs
Improve a habitat.
Conduct a local business audit to discourage the selling of non-sustainable seafood.
Reduce your community's carbon footprint.
Reduce your community's use of plastic.
What are your skills and talents?
Do you need a mentor or adviser? Who will it be?
Will there be legal or permit issues to resolve?
How many others can you recruit to help?
Will your volunteers need special skills or training?
How many hours can you devote to the project?
Will there be a project deadline?
How much money will you be able to raise for the project?
Can you get a sponsor to help with the costs?
—————————————-
Requirement 2: Plan Your Sea Life Action Program
Goal Setting
Setting goals will help give you a long-term vision and short-term motivation. It helps you to organize your thoughts and determine exactly what needs to be done.
Decide exactly what you want to accomplish and give your project a name.
Break it down into smaller steps.
Set up a timeline.
Recruit Volunteers
Although smaller projects can be done alone, many projects will require a team. As the project delegate, one of your most important roles will be building a successful team. Helpful Link: 7 Super Steps to Recruit Volunteers
Find a mentor with experience in your project area.
Enlist an Advocate to help you recruit volunteers. Consider using a volunteer release form especially if you are working with children. Helpful Link: Volunteer Release Form
Decide which jobs you can do alone.
How many people will you need for each team? Take a look at this table to get you started. You can copy and paste the table to use as a template for your project. You can set up an account for free or use your own method for organization.
Budgeting
Budgeting allows you to create a spending plan for your project. Sticking to your budget ensures that you will have enough money for the things you need to complete it. If you copied the table above you will see there is section for budgeting.
Raise Money 
There are many ways to raise money. If you are working with an organization such as Girl Scouts* check first to see what is allowed. Helpful Link: A Beginner's Guide to Fundraising
Consider GoFundMe, CrowdRise, DonorsChoose, or Kickstarter.
Organize an event like a car wash, bake sale, or benefit dinner to raise awareness around your fundraiser.
Host an event such as a walkathon, run, or bike rides.
Ask local businesses and community members to donate items for a silent auction or a live auction.
Sales of customized products like tee shirts, pens, and buttons will not only raise funds but generate awareness about your project.

Invite the local media to your fundraiser or at least supply them with a

photo and caption after the event.
Specific ideas for Sea Life Fund Raising
Get clever with your ideas. Think of things related to your cause. It will help bring awareness and set up a "fun" atmosphere, while raising the money you need to complete your cause.
Purchase candy such as Turtles, Swedish Fish or gummy sharks in bulk. Make custom tags to staple to the packaging. Sell for two to three times the purchase price.
Have a swim-a-thon.
Host a sandcastle building contest.
Get a local business to sponsor a "free" swim lesson, snorkel or dive class. Participants would make a suggested donation to the project. Businesses would benefit from booking additional lessons
Host a mermaid/merman dance
Install benches at your river, beach or lake side and ask people to sponsor the bench or the slats. Have plaques made for the sponsors.
Give sea life recognition gifts for sponsorships. Set donation levels such as $20 for a pin, $40 for a tee shirt, $60 for a beach towel.
Ask people to make small permanent sand sculptures for a silent auction.
Host a water-side barbecue.
Buy dollar store sand pail and shovel sets. Make permanent, water proof labels to put on them. Set up a table to sell them at the beach.
—————————————-
Requirement 3: Complete Your Sea Life Action Program
You should now be ready to put your plan into action. After completing the plan, remember to thank the community
Personally thank individuals and businesses who helped. A handwritten letter is always nice. Helpful link: How to write a thank you letter.
Thank the community as a whole with posters.
Create a follow up press release and include the names of individuals and businesses who participated. Helpful link: How to write a press release.
Thank the community as a whole on social media.
©2018 MakingFriends.com, inc.
Additional information
| | |
| --- | --- |
| Weight | .1 lbs |
| Dimensions | 1 × 1 × 1 in |