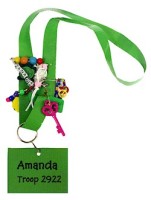 Duct Tape Lanyard SWAP Necklace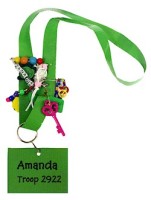 Duct Tape Lanyard SWAP Holder. A perfect place to hold your SWAPs.
You need:
Duct Tape
Scissors
Marker
Cardboard
Instructions:
Fold 30" of duct tape in half the long way, sticky sides together. It might be easier to work with three 12" pieces, overlapping the ends. Slide on a key ring. Hook on a lanyard hook. Cut a piece of cardboard 3" x 4" . Cover both sides with duct tape. Trim off excess tape. Punch a hole in the top middle. Hook to lanyard. Write your name and troop number on it. Pin the SWAPs you collect on the lanyard.
Join our SWAP Sensation and mail your SWAPs to us and we will send you back some from other Girl Scouts.