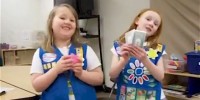 Daisy Financial Literacy Leaves

Girl Scout Daisy Troop earns all four financial literacy leaves in one meeting with MakingFriends.com Daisy Leaf Packette.
Cookie time is a great time to work on your financial literacy leaves. Your Daisies will be proud to collect money and make change. If you have your own idea please share it on our facebook page!
Fun Fact: Kids will learn easier about buying and making change with fake money than worksheets.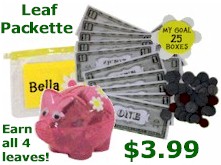 Daisy Leaves Packette
Earn the Daisy Leaves.

Includes:
Plastic Coins and Faux Paper Money
Zippered Pouch to hold Money
Daisy Cookie Goal Pin
Plastic Piggy Bank
Kit for 1 girl.
$4.49