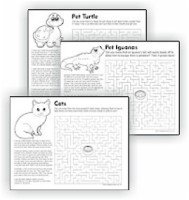 Brownie Pet Badge | Printable Pet Facts with Mazes
Our pet facts will help you earn the Brownie Pet Badge. Click on the images below to print each page: turtle, mouse, iguana, hamsters, frog, fish, dog, cat and bird. Hand these out before your meeting to keep the girls busy while waiting for the meeting to start. They can work on the mazes and color the cute pets then use the facts to help complete the pet badge requirements.
Our Brownie Pet Badge in a Bag® is a great way for your entire troop to earn the Brownie pet badge even if some of the girls don't have pets. They will fall in love with the colorful pet frogs included in the kit while they make a habitat, learn to feed them, and give them exercise.
Illustrated Pet Fact Sheets: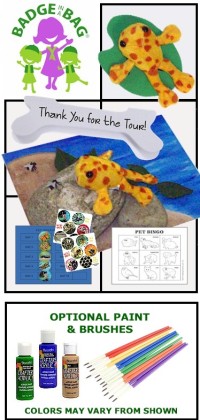 Brownie Pet Badge in a Bag®
Complete kit for 12 girls.
Your girls will learn about responsibility and pet ownership by practicing with a cute plush frog.
1) Play Pet Bingo
2) Make a Frog Habitat
3) Make a Thank You
4) Exercise with Your Frog
5) Feed Your Frog
$34.99