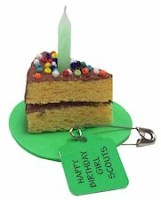 Birthday Cake SWAPs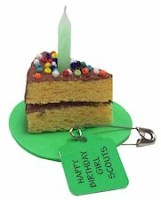 Celebrate Girl Scouting with teeny tiny birthday cake SWAPs. This is a fun craft to make for your American Girl doll.
You need:
Acrylic Paint and Brush
(We used brown for chocolate but might be fun to try green frosting for Girl Scouts)

Birthday Candles

Safety Pins (not shown)

SWAP Tags (optional) (not shown)
Fine Point Pen
Instructions:
Cut miracle sponge wedges. Half circles can be cut into 4 pie-shaped wedges. Each SWAP takes two pieces. Moisten to expand. Let dry overnight. Using the tip of a scissor, cut a hole for the candle in the middle top of pie-shaped sponge piece. Paint the curve end and top of the piece and a second piece. Let dry. Glue pieces together. Glue to foamie circle. Spread some glue on the top and sprinkle with seed beads. Cut a candle in half. Glue it in the hole. If you are using optional SWAP tags, write your message on the tag and slide onto the pin. Put a pin through the hole and poke the pin through the foamie plate. 
Join our SWAP Sensation and mail your SWAPs to us and we will send you back some from other Girl Scouts.