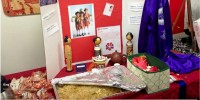 Asian Countries | Ideas for Thinking Day*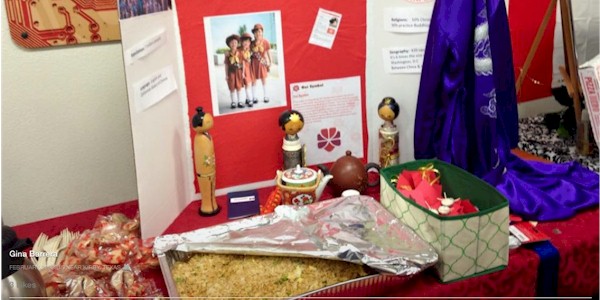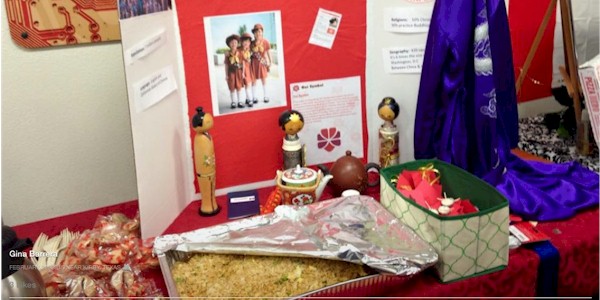 Multi level Troop 905 Converse, Texas represented Hong Kong for Thinking Day.
Depending on exactly which of the many overlapping boundaries are observed, Asia has at least a dozen countries that your troop might choose for a Thinking Day* event. There twice as many options if you are not limited to WAGGGS members and even more if you consider the Pacific Region Countries.
The Lunar New Year is celebrated in several Asian countries including Malaysia, North and South Korea and Singapore. If your girls want to include the symbols and stories from this holiday, our page Chinese New Year has some crafts and ideas of some things your girls will want to learn about.
MakingFriends®.com has ideas and products to help make your celebration a success.
Fun Fact: Technically, Hong Kong is a part of China. China is not a member of WAGGGS but Hong Kong is… wait… what was that?
Swapping pins for Every Country
More Thinking Day* Swapping pins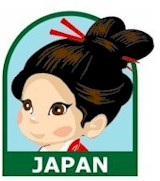 Japan Patch
2″ Embroidered, Iron-on

$0.99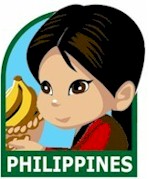 Philippines Patch
2″ Embroidered, Iron-on

$0.99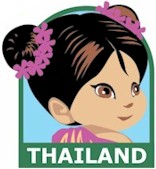 Thailand Patch
2″ Embroidered, Iron-on

$0.99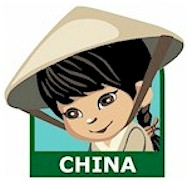 China Patch
2″ Embroidered, Iron-on

$0.99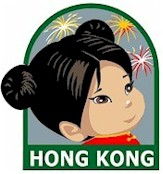 Hong Kong Patch
2″ Embroidered, Iron-on

$0.99
Asia is rich and diverse in culture from one country to the next. Languages are just as varied. Some of the languages spoken in Asia are: Chinese, Russian, Slavic and Japanese. English is also taught in schools of some Asian countries.
Girls working on an Asian country might want to research Buddhism. Mandalas were created in the service of Buddhism and were produced in Tibet, India, Nepal, China, Japan, Bhutan, and Indonesia. Asian countries that have a significant number of people that practice Bhuddism today include Bhutan, Cambodia, China, Japan, Laos, Myanmar, South Korea, Sri Lanka, Taiwan, Thailand, Tibet and Vietnam.
A traveler's paradise, troops doing Asian Countries for World Thinking Day can use the internet to take virtual tours to explore temples, beaches, amusements parks, excellent shopping centers, and in the most visited Asian country- The Great Wall of China. Other popular tourist countries include India, Thailand and Malaysia.
For Thinking Day costumes, troops who represent Asian countries might wear loose-fitting dresses like a Japanese kimono, traditional Chinese han fu or more modern cheongsam that evolved by merging with western patterns that show off the beauty of a female body.
Asia has a major influence on the world's economy. Countries such as China, Japan and India produce many products that are used by every nation in the world. A fun project for girls would be a "scavenger hunt" to look around their homes to find toys, clothes and other items from the country they are learning about.
Hot tea and fortune cookies could be the easiest snack for your booth. But, Asian cuisines include many more interesting foods and flavors. Examples of staple foods include rice, noodles, mung beans, soy beans, tofu, seafood (especially in Japan), mutton (in Mongolia) and even horse meat. Common seasonings include garlic, sesame seeds, chilies and dried onions. Stir frying, steaming, and deep frying are common cooking methods in Asia.
WAGGGS has 26 member countries in its Asia Pacific region. We have separate Thinking Day* pages for:
We also have craft and SWAP ideas for:
Bangladesh
Cambodia
China (not a WAGGGS country)
Hong Kong
Malaysia
Myanmar
Nepal
Philippines
Singapore
Sri Lanka
Taiwan
*MakingFriends®.com is not affiliated with, endorsed by or a licensee of Girl Scouts of the USA