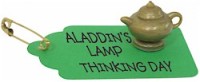 Aladdin Lamp SWAPs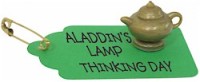 Create magic with your Aladdin Lamp!
You need:
Glue Dots or Mini Low Temp Glue Gun
Pen
Gold Paint Pen
Instructions:
Paint the teapot bead and 15mm wiggle eye gold. Then glue the wiggle eye to the bottom on the teapot. Write your message on the SWAP tag. Finish by gluing the lamp onto the SWAP tag. 
Join our SWAP Sensation and mail your SWAPs to us and we will send you back some from other Girl Scouts.