Honey Bee Supporter Service Patch
Product Number: YS-1520M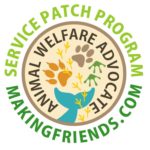 This 2″ embroidered iron-on patch can be awarded as part of our Animal Advocate Service Patch Program. Find out more about this program.
In stock
Buy More And Save!
| 1-249 | 250-499 | 500+ |
| --- | --- | --- |
| $0.69 | $0.59 | $0.49 |
Description
Additional information
Reviews (0)
Description
See the suggested requirements for earning this patch.

About the Animal Welfare Service Patch Program from Youth Strong
Who can earn these patches and pins?
Anyone who is concerned with the welfare of animals. This program is designed to be flexible for anyone and any group including Girl Scouts*, Boy Scouts, youth groups, families and individuals. Patches can be earned with multi-levels and are based on ability and time invested – not necessarily the age of the achiever. You can progress through the levels — Friend, Volunteer, Advocate — earning one patch per year or choose to do them in a series culminating in a larger service project. Those who choose to do so can complete all five areas of interest — Birds, Pets, Habitats, Sea Life, Endangered — and earn the Animal Welfare Service Patch. More experienced achievers can earn the Delegate pins.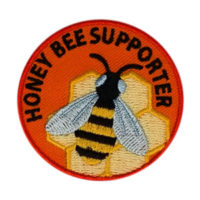 This Honey Bee Supporter Patch is one of our "Volunteer" level patches. This level of our patch program provides an opportunity for achievers to join in to give their time to a service project. Program organizers can give these patches for recognition or they can be earned by completing requirements two to five below. There is no age suggestion for this part of the program. It is a good opportunity for parent/child volunteering, for progression from our "Friend" level patches or for troops of any level or service minded individuals and groups.
The first requirement is an optional activity designed for an educational/recreational activity.
Can this patch be earned other ways?
Yes. Based on your geographic area and the ability of the achiever, other requirements may be more suitable. Use your own judgement for what is best for your group.
How much time does it take to earn this patch?
Generally, our Honey Bee Supporter Patch can be earned in three to four hours.
—————————————-
Honey Bee Supporter Patch Program Suggested Requirements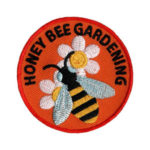 Completing the Honey Bee Gardening Patch program is a suggested prerequisite for earning your Honey Bee Supporter Service Patch. Your bee gardening experience will help provide you with the knowledge needed to volunteer. You can also opt to complete the Honey Bee Gardening Patch program requirements while you volunteer.
Requirement 1: Honey Bee Workbook (Optional)
Häagen Dazs, the ice cream people, have an excellent workbook of activities and information for learning more about honey bees. Learn some interesting facts about queen bees, bee dances and more.
—————————————-
Requirement 2: Visit a Local Beekeeper
Bee Culture online magazine has links to beekeepers in the United States. An online search will also identify beekeepers in your area.
Some questions to ask the beekeeper:
How many bees live in a hive?
Where is the queen?
Do you get stung by the bees?
What is the difference between the drones and the worker bees?
How much honey do you get from a hive?
Can anyone start keeping bees?
Why do bees swarm? (See requirement 4 below.)
If you can't visit a beekeeper in person watch this video about beekeeping.
—————————————-
Requirement 3: Learn What to Do if You See a Bee Swarm
An overcrowded hive will split and and fly t
o a new location. If you see a bee swarm don't call an exterminator. Beekeepers will usually remove the bees for free or at a minimal cost. Find a beekeeper who will remove swarms and keep the number in your phone.
—————————————-
Requirement 4: Make a Commitment to Protect and Support Honey Bees
Make a commitment to support your local bee population.
These ideas are from The Honey Bee Conservancy. Choose at least one idea:
Protect a bee habitat. Clean up or improve an area where honey bees live.
Discuss pesticide use with your family, school administrators, business owners or other property owners in your area. Using pesticides in your garden can keep bees away and endanger their lives. Suggest other options like organic pesticide or using beneficial insects such as praying mantises and ladybugs in your garden.
Trees and flowers are not only a great food source for bees but they are also essential to a bee's habitat. Tree leaves and resin provide nesting material for bees, while their natural wood cavities make excellent shelters. With deforestation and development on the rise, you can help bolster bee habitats by caring for trees and joining tree-planting parties in your area.
If you live in an area concerned about drought, create bee baths. Fill shallow bird baths or a small dish or bowl with clean water, and arrange pebbles and stones inside so that they poke out of the water. Bees will land on the stones and pebbles to drink the water as they take a break from foraging and pollinating.
Sponsor a bee hive. The Honeybee Conservancy is working to install stocked honeybee hives across the United States. Visit their "Sponsor a Hive" page for more information on sponsoring.
—————————————-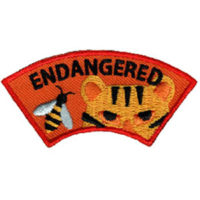 Once you've earned this patch you may want to earn our Endangered Animal Advocate Service Patch.
©2018 MakingFriends.com, inc.
Additional information
| | |
| --- | --- |
| Weight | .1 lbs |
| Dimensions | 1 × 1 × 1 in |