Honey Bee Gardening Service Patch
Product Number: YS-1510M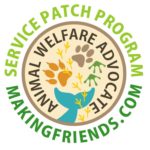 This 2″ embroidered iron-on patch can be awarded as part of our Animal Advocate Service Patch Program. Find out more about this program.
In stock
Buy More And Save!
| 1-249 | 250-499 | 500+ |
| --- | --- | --- |
| $0.69 | $0.59 | $0.49 |
Description
Additional information
Reviews (0)
Description
See the suggested requirements for earning this patch.
About the Animal Welfare Service Patch Program from Youth Strong
Who can earn these patches and pins?
Anyone who is concerned with the welfare of animals. This program is designed to be flexible for anyone and any group including Girl Scouts*, Boy Scouts, youth groups, families and individuals. Patches can be earned with multi-levels and are based on ability and time invested – not necessarily the age of the achiever. You can progress through the levels — Friend, Volunteer, Advocate — earning one patch per year or choose to do them in a series culminating in a larger service project. Those who choose to do so can complete all five areas of interest — Birds, Pets, Habitats, Sea Life, Endangered — and earn the Animal Welfare Service Patch. More experienced achievers can earn the Delegate pins.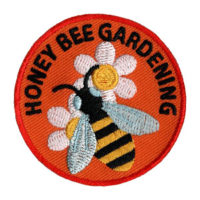 This Honey Bee Gardening Patch is one of our "Friend" level patches which are the easiest to earn. They are geared toward younger achievers such as Daisies* and Tiger Cubs but are also suitable for achievers who can only invest a small amount of time but are concerned with animal welfare.
How can someone earn this patch?
Complete the first three requirements below. The fourth requirement is an optional activity designed to engage younger achievers.
Can this patch be earned other ways?
Yes. Based on your geographic area and the ability of the achiever, other requirements may be more suitable. Use your own judgement for what is best for your group.
How much time does it take to earn this patch?
Generally, our Honey Bee Garden Patch can be earned in two to three hours.
—————————————-
Honey Bee Gardening Patch Program Suggested Requirements

Requirement 1: Learn Why We Need Bees
Bees are an important part of the earth's balance. They are pollinators. Bees gather pollen from flowers to stock their nests as food for their young. When bees fly from flower to flower they transfer pollen from flower to flower. This allows the plants to reproduce, making more plants. Flowers turn into things that people and other animals eat like nuts, fruits and vegetables. We also get cotton for our clothes, flavorings like vanilla, scents like lavender, beeswax for candles and don't forget honey to sweeten our food!
Younger achievers can download our coloring page. 
But the bee population is declining. Scientist believe it is a combination of pesticides, parasites and infections. They also believe that noise and pollution may play a role.
You can also watch this video to find out more about how bees help the earth and why they are in need of help.
Requirement 2: Planning a Bee Garden
You can help honey bees and other pollinators like butterflies and moths by planting flowers. If you don't have much space consider a window box or container garden. Here are some creative ways to use an old pallet to make a planting.
Discussion Points:
—————————————-
Requirement 3: Participate in Planting a Bee Garden
It's time to do your planting. Make sure you are prepared to be outside. Wear sun screen and a hat. Make sure to protect your arms and legs by wearing long sleeves and sturdy shoes or boots are a must.
Participate in an organized garden planting.
Make a container garden for you home.
Plant a bee garden in your neighborhood.
If you see a bee while you are gardening don't be afraid. Bee don't sting unless they feel threatened so don't swat at them. Just continue with your job and they continue with theirs. Watch this quick video to learn more.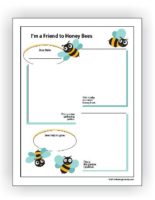 —————————————-
Requirement 4: Worksheet for Younger Achievers (Optional)
Download and complete our "Friend of the Honey Bees" worksheet.
©2018 MakingFriends.com, inc.
Additional information
| | |
| --- | --- |
| Weight | .1 lbs |
| Dimensions | 1 × 1 × 1 in |