Animal Habitat Clean Up Service Patch
Product Number: YS-1310M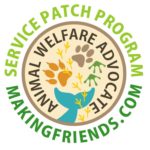 This 2″ embroidered iron-on patch can be awarded as part of our Animal Advocate Service Patch Program. Find out more about this program.
In stock
Buy More And Save!
| 1-249 | 250-499 | 500+ |
| --- | --- | --- |
| $0.69 | $0.59 | $0.49 |
Description
Additional information
Reviews (0)
Description
See the suggested requirements for earning this patch.
About the Animal Welfare Service Patch Program from Youth Strong
Who can earn these patches and pins?
Anyone who is concerned with the welfare of animals. This program is designed to be flexible for anyone and any group including Girl Scouts*, Boy Scouts, youth groups, families and individuals. Patches can be earned with multi-levels and are based on ability and time invested – not necessarily the age of the achiever. You can progress through the levels — Friend, Volunteer, Advocate — earning one patch per year or choose to do them in a series culminating in a larger service project. Those who choose to do so can complete all five areas of interest — Birds, Pets, Habitats, Sea Life, Endangered — and earn the Animal Welfare Service Patch. More experienced achievers can earn the Delegate pins.
This Habitat Clean Up Patch is one of our  "Friend" level patches which are the easiest to earn. They are geared toward younger achievers such as Daisies* and Tiger Cubs but are also suitable for achievers who can only invest a small amount of time but are concerned with animal welfare.
How can someone earn this patch?
Complete the first three requirements below. The fourth requirement is an optional activity designed to engage younger achievers.
Can this patch be earned other ways?
Yes. Based on your geographic area and the ability of the achiever, other requirements may be more suitable. Use your own judgement for what is best for your group.
How much time does it take to earn this patch?
Generally, our Habitat Clean Up Patch can be earned in two to three hours.
—————————————-
Animal Habitat Clean Up Service Patch Program Suggested Requirements
Requirement 1: What is an Animal Habitat?
An animal habitat is a place where animals live. They live in that habitat because they can get what they need like food, water, air. People live in neighborhoods. It's their habitat. Animal habitats are places like forest, deserts, oceans and woodlands. Often, we share our habitat with other animals because our neighborhood was built in their habitat. It's important that animal habitats are protected and humans respect the homes of animals.
Discussion Points:

What animals live in your area?
Have you ever seen a squirrel? A lizard? A deer? A rabbit?
Where do you see them? In your yard? At the park?
Find out all the different types of animals that live near you with this interactive map.
—————————————-
Requirement 2: Visit an Animal Habitat
Think about your area. What kind of animal habitats are there? Parks are animal habitats. Backyards are animal habitats too.
Things to Look For:
What kind of animals do you see?
What kind of animals might be there that you don't see?
Is the habitat clean and inviting?
Do you think the animals feel safe?
—————————————-
Requirement 3: Participate in a Habitat Clean Up
Choose one idea below:
Clean up the animal habitat you visited.
Find another animal habitat to clean up.
Participate in an organized habitat clean up.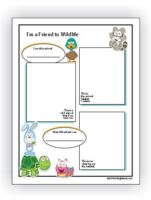 —————————————-
Requirement 4: Worksheet for Younger Achievers (Optional)
Download and complete our "Friend of Wildlife" worksheet.
—————————————-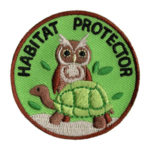 Once you've earned this patch, you may want to earn our Animal Habitat Protector Patch.
©2018 MakingFriends.com, inc.
Additional information
| | |
| --- | --- |
| Weight | .1 lbs |
| Dimensions | 1 × 1 × 1 in |