Fairy House Build Fun Patch Program
Product Number: MF-4551A
Your Girl Scouts will have so much fun using their imagination to build fairy houses! Try this fun, no prep activity on your next camping trip. However your girls decide to build their fairy houses, this colorful Fairy House fun patch is sure to please your Girl Scouts!
983 in stock
Buy More And Save!
| 1-249 | 250-499 | 500+ |
| --- | --- | --- |
| $0.69 | $0.59 | $0.49 |
Description
Additional information
Reviews (0)
Description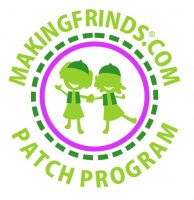 This 2″ iron-on embroidered fun patch is part of our patch program.
Suggestion for how Scouts of all levels can earn the Fairy House Build Fun Patch:
Leave No Trace:
Before planning this activity, make sure to check with the camp director to find out if it's okay to leave the fairy houses set up for others to find or if they must be dismantled and the materials scattered before leaving.
How Daisy, Brownie, and Junior Girls can earn the Fairy House Build Fun Patch:
The only instruction you should give your girls is to stay in designated areas (in camp site or on paths, not in the woods) and to use items they find in nature to build a fairy house. Let them know they can build any structure they think a fairy would live in. Allow enough time for them to be creative.
How Cadette, Senior, and Ambassador Girls can earn the Fairy House Build Fun Patch:
Have the older Girl Scouts lead a hike to look for the fairy houses when the younger girls are done. Your girls will beam with pride as their fairy houses are discovered and will have fun showing off the different ideas they had.
If allowed, older girls might also enjoy going around while the younger ones sleep to sprinkle a little non-toxic glitter over the fairy houses. (Make sure to thoroughly clean up the glitter before leaving.) An alternative would be to leave thank you notes from fairies for the girls to find. The younger girls will be delighted to see that fairies stopped in to visit.
Fairy House Meeting Activity:
Not going camping or to an outdoor spot for this fun activity? Let the girls get creative with craft supplies at a troop meeting instead. Popsicle sticks, silk flowers and leaves, moss and other supplies that simulate items they would find in nature can be put out for the girls to use. Girls could create their fairy houses in a foam block or in a flower pot filled with dirt. The key is for girls to use their imagination.
Additional information
| | |
| --- | --- |
| Weight | .01 lbs |
| Dimensions | 1 x 1 x 1 in |