Junior Detective Badge in a Bag®
Product Number: MF-1615

Our Detective Badge in a Bag combines an educational experience with hands-on fun. You'll have an unforgettable meeting ending with a life-sized game of clue where the girls are the game pieces!
Be prepared for tons of fun. Your troop will want to play our game again and again. The girls are the game pieces and travel around the room with inflatables. Did the biology teacher steal spinach soup and eat it in the Janitor's closet? Or did the librarian steal the meatloaf and eat it in the office? There is also plenty of opportunity to learn. See our blog for more information.

Individual packaging also available.


Top Rated


Leader Favorite
Buy More And Save!
| 1 | 2-3 | 4-5 | 6+ |
| --- | --- | --- | --- |
| $26.99 | $25.99 | $23.99 | $21.99 |
Description
Additional information
Reviews (6)
Description
Complete the five projects to earn the Junior Detective badge.
Activities:
Practice the Power of Observation (Worksheet)
Communicate in Code(Tipped Yarn, Pony Beads, Straws)
Fingerprint for Fun (Stamp Pad, Fingerprint Card)
Learn About DNA (DNA Cards)
Solve a Mystery (Inflatables, Jumbo Circle Stickers, Clue Cards)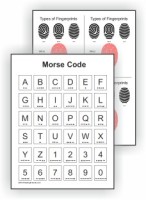 Check out our leader blog for more information.
You'll also need:
Pen or Marker
Paper, Pencil and Scissors
Scrap Paper
Envelope
Additional information
| | |
| --- | --- |
| Weight | 2.25 lbs |
| Dimensions | 1 x 1 x 1 in |
| Item Number | MF-1615 |
You may also like…