Description
Additional information
Reviews (0)
Description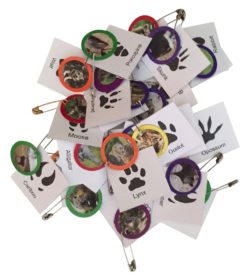 Our Kit Includes:
24  Different Printed Tags – 1.87″
24 Different Animal Stickers – 1″
24 Safety Pins – 1″
24 Cardboard Disks – 1.25″
Cheat Sheet
Instructions:
Tear apart tags on the micro perforated sheets. Write your SWAP information on the back. Peel and stick an animal sticker to each cardboard disk. Pair up disks with tags. Make it a game! Poke a hole through the disk with a pin (or use a hole punch.) Add the matching tag.
Set up your own SWAP or join our SWAP Sensation and mail your SWAPs to us and we will send you back some from other girls.