Ireland | Ideas for Thinking Day*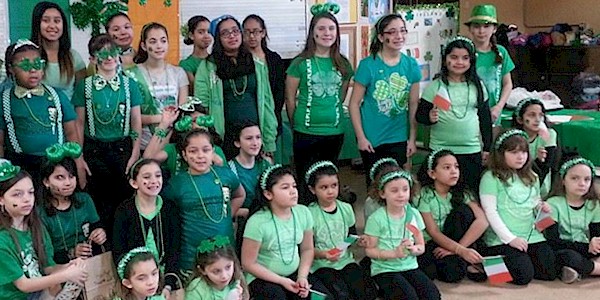 Troop 6127 from Bronx NY represent Ireland for their event.Girls who have the "Luck of the Irish" for are in for good times. Festive shamrock and rainbow decorations will draw guests to your booth like Irish sports fans to the pub after a hurling match. MakingFriends®.com has ideas and products to help make your celebration a success.
Superhero Justice will guide your girls with ideas, activities and facts for their Ireland presentation when they use our exclusive Ireland Download.
Northern Ireland is a member of WAGGGS as part of the United Kingdom.  The United Kingdom includes England, Northern Ireland, Scotland and Wales.Ireland Patch
2″ Embroidered, Iron-on

$0.99
Ireland Download
Ideas, activities and facts for your presentation.
$15.00
With fun Irish costume ideas, your little lassies will proudly dance an Irish jig perfect for a St. Paddy's Day parade. So many dandy ideas for pins for swapping,  start with an Irish charm pin, smiling leprechauns and shamrocks.
But there is more to learn about Ireland than just campy symbols and legends. Girls who have been inspired by JOURNEY* and badge activities to take care of the environment and their health will be interested to learn that Ireland was the first country in the world to have an environmental tax for plastic shopping bags and in 2004 it was the first to introduce a public smoking ban. And, the pots of gold at the end of Irish rainbows these days are high-tech. Multinational corporations have set-up European headquarters in Ireland helping to make the Emerald Isle one of the largest exporters of hardware and software-related goods and services in the world.
Hurling is a centuries old Irish game that resembles field hockey and remains popular today.  Boxing has been Ireland's most successful sport in Olympic competitions.
Thanks to its cool, damp, and overcast weather most of the year, the hilly landscape remains lush and green supporting the farming of beef, dairy products, barley, potatoes and wheat. A traditional Irish stew or corn beef and cabbage are great for hungry Irishmen but for an easy snack, girl could just bake up a batch of Irish soda bread.
The girls may want to include things Ireland is known for like leprechauns, shamrocks, St. Patrick's Day, and step dancing but they may be interested in learning about and sharing things they are less familiar with like The Blarney Stone and the potato famine.
Additional ideas can also be found in European Countries / Thinking Day* Ideas.
*MakingFriends®.com is not affiliated with, endorsed by or a licensee of Girl Scouts of the USA