Recruiting Daisies for Our New Troop
Guest post from Staci Jansma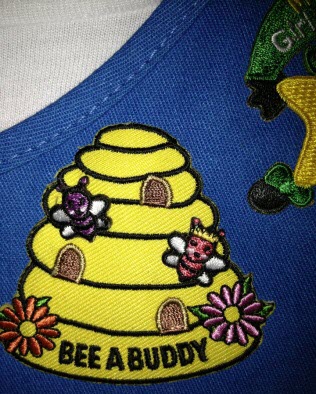 At the beginning, the first meeting we had planned was recruitment night. We were a young, new daisy troop. So far we had my daughter as a Girl Scout member when school began just about a year ago. We utilized the Bee a Buddy patch/pin to help introduce Girl Scouts to her friends within the school. My daughter is so bubbly that she quickly made friends and we invited everyone from her class. From there during recruitment night we also met a few more Kindergarteners that joined as Daisies too. Pictured to the right is the Bee A Buddy patch plus 2 pins (she had 3 friends join when this photo was taken).
And I must say… I was more than ready to take on more girls – I was quite organized… I had the membership papers ready – just needed willing girls to join. I had a binder that I started to gather any and all details within. That binder is about 2"-3" and is pretty full. But it has helped a lot. I prepared a handbook that my parents could review which was very long, and advised to not print it out. I tried to make everything accessible through online to keep costs low for me, the troop and parents. Here's an overview of what I put together for my Troop Binder. Here's a quick handout I put together that you can print off and take with you to get what's needed if you don't have it already.
At our recruitment night – the focus was creating a "Making New Friends" swap (see the How-To below) plus name tags so I could get to know each girl better and I used the Daisy Flower Stickers template – took it to OfficeMax and had the stickers printed and ready to go at recruitment. I picked up the foam flowers from Michaels and had my daughter pick out sparkly silver string to make them into a necklace that each girl could hold onto. I also provided each girl a few weeks later with a clear pocket that fits into The Girl's Guide binder which holds their name tag.
I also created our own fan page to share about events and Girl Scout news. Creating a public place for your troop is not a bad thing, by January of 2013, I had a new family move into our school area, and the mom called me because I had my phone number listed on the fan page and her daughter is an active Girl Scout daisy now. So don't be afraid to embrace what resources are readily available to you.
Asking for Help… How? Where? Who?
I have been able to get help from leaders of all levels. I first was introduced to other leaders through my service unit and at the new leader training which was held about a year ago. I came well prepared though, this position of being a leader is volunteer, but I wanted to be the best leader and haven't been a part of Girl Scouts since I was a Brownie many years ago… so that's why I spent a lot of time in between summer activities to go through their 3 online courses as well as read what I could find online.
Each service unit, council and troop handles everyday tasks differently – so my best advice is to find current second year daisy leaders and ask them questions of how they have done things. I had an afternoon meeting at Mickey D's with a 2nd year daisy leader and asked her questions and see how things were being handled so I could get a better understanding. We talked and all our kids played within the play area – it was a perfect meeting place.
Recommendation for you, if you have questions and just unsure about how to run your troop, go to your service unit meetings, the council provided meetings and training sessions – you may know as much as you do – however you probably can still take away at least one thing from the training.
I remember in September of 2012, I was invited to a Leadership Conference and little did I know that I would meet other leaders that are not only my mentors, colleagues but now also friends and we talk weekly on Facebook about girl scouts, our families and our lives. One leader that I met at this event is now our pen pal troop for my troop. They are now first year Brownies and we are second year Daisies – we have done a few events together this past year so the girls have a relationship with each other too including Daisy Days. We helped this troop finish their last journey so they could earn the Daisy Summit pin. What an honor for each of them and glad we could help each girl involved it was an amazing daylong event.
So we put our heads together and make things happen. You can too – the opportunity is always there – you just need to move forward and make it happen. Wish you all the best as the new Girl Scout year begins… Stay tuned for more!
Future posts (ones that I know I want to share with you for sure!):
How Our Daisy Meetings Are
Attending Council Sponsored Events
Creating Your Own Build A Bear Girl Scout Party and Hosting the Big Day
Completing an Take Action Project for the Welcome to the Daisy Flower Garden Journey
Creating Your Daisy Day Event and Hosting the Big Day
Getting the Girls input on Swaps, Events, etc.
Should You Participate in Selling Fall Products?
For First Year Leaders: Selling Cookies – What You Must Know and What I've Learned Quickly
Making New Friends swap
Silver pipe cleaners
Pony Beads (Silver and Gold)
Safety Pins
Paper punch
Tag with the saying:
Make new friends but keep the old.
One is silver and the other's gold.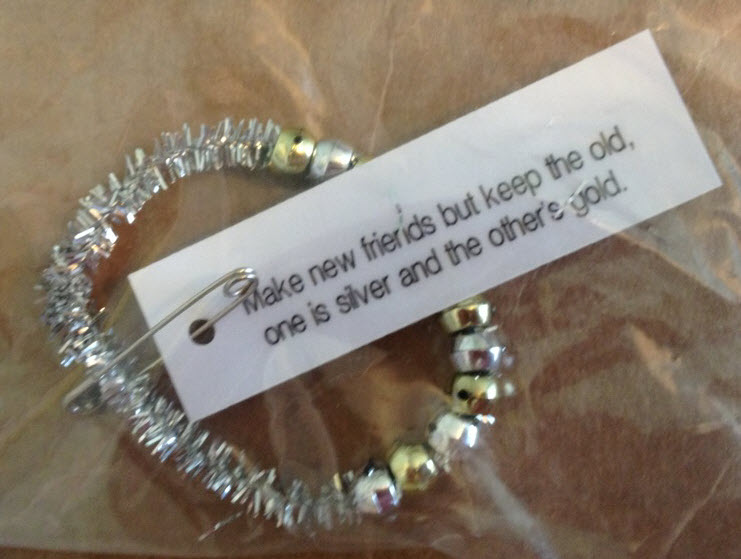 Take one pipe cleaner and cut it into 3 sections with a wire cutter. Then select 6 gold pony beads and 6 silver pony beads. Place each bead on the pipe cleaner going every other. We all started with silver as the first one, like the song. Once all 12 beads are on the pipe cleaner, add your tag and safety pin, then fold the pipe cleaner ends together to make a circle. This was a swap that was given to us for our recruitment night by our Service Unit. We were also introduced to the "bucket hats" which you could get at Michaels or Oriental Trading. I even picked up a package of Fabric Crayola markers and pink glitter Elmer's glue which we are currently passing it around, just gave it to our new girl scout that joined this summer.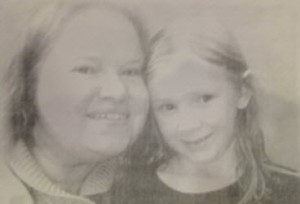 My name is Staci Jansma. I am currently a Daisy Troop Leader and School Organizer. This is my second year as a leader for 2013-2014, and I have learned a lot within the past 12 months and I'd like to share that with you. My daughter is the main reason for my passion into Girl Scouts, plus I was a Daisy-Brownie when I was a little girl and my mom was my leader too. If there is a topic you are dying to know more about, drop me a comment and let me know. If I have some input on it, I will definitely share what I know. Here's to a great Girl Scout year for everyone! here.