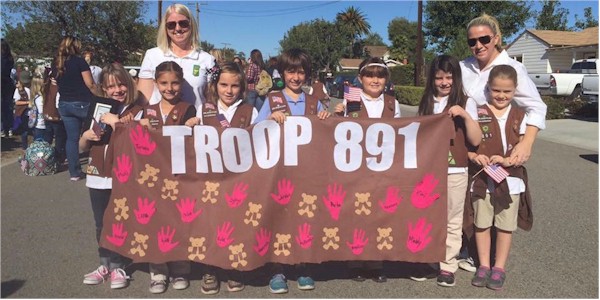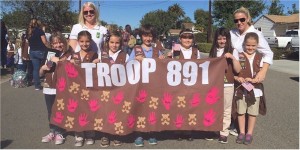 Leader needs some ideas: I'm a new Troop Leader and looking for ways to make a Troop Banner for Cookie Booths and for any events we have. What are some things used by other troops to make banners that is cost effective.?
Here are a bunch of ideas on Ways to Make a Banner from our Facebook page:
Colleen wrote: For cookie booths we just use a poster board. 50 cents at the dollar store. The girls enjoy making a new one every year, especially since there are new girls every year to help.

Amanda's ideas: Contact your local banner/sign printing place and ask for a misprint. You can paint it over (or paint the back)with fabric paints. Also consider investing in a professionally printed banner. Have the girls design the artwork, either on paper or digitally. We paid less than $30 for a bomb diggety cookie banner that's still looking good a few years in, and about $30 for a large "flag proportioned" troop banner.

Sue's experience: We had our banner from MakingFriends® .com. So easy everything you need in a bag for 18 girls is just 20 bucks. They have for Daisys, Brownies and Juniors. Much better then running from store to store to get the supplies you need. Also the girls loved making their own banner! We made the Junior one and since it is green we can keep it even when the girls move up.
Lauren wrote:

see if a school or someplace will let you have the 'end' of a roll of paper and decorate it — not very permanent and will get destroyed in rain/snow but it's a way to start. Roll of felt and felt letters to glue on.

Ashley's input:

Duck cloth so ours is water proof and fabric painted the troop numbers on. We then get the extra patches to put on ours with velcro to show what we have earned.