Silver Award – Giving back to the community
Today's post comes from a Cadette GS leader from troop 1563 in Manchester, Md.  One of her girls, who is also her daughter, earned her Silver Award September of this year. She held a clothing giveaway after finishing the Amaze Journey.
Jeannie's Silver Award Project
Jeannie sought clothing donations from church family, the public, and at her school. They washed them up, sorted them, and stored them until the day of her giveaway. Jeanie sought family-friendly door prize donations from area merchants. She was able to get roller skating admissions, movie theatre admissions,  a restaurant gift certificate, and a grocery store gift card. She was also able to get donations from area grocery stores, so that wecould offer free lunch at her clothing giveaway. They were able to offer hot dogs, mac & cheese, and assorted sweets, in addition to soft drinks.
The day of her giveaway, September 22, 2012, folks from the community could come to their church and help themselves to the free clothes, housewares, toys, and other items laid out on tables in the fellowship hall. They could start with three large trash bags, plus they could fill boxes as well. They had 50-60 people attend that day. It was a very successful event.
Hope this inspires another cadette wondering what to do for a service project, or a Silver Award Project.
Did you enjoy this article?
Subscribe for Updates
Sign up for our email list and never miss a Girl Scout Idea again!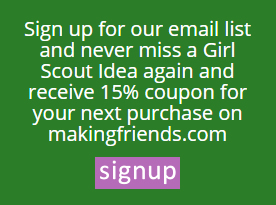 10 responses to "Silver Award – Giving back to the community"