As a multi-level GS troop leader, I often get asked how I cater to the broad spectrum of age ranges. Younger girls can't do everything older girls can, and of course, there are some activities that older girls don't enjoy as much as younger girls. Recently, my troop held our annual GS Christmas Party. This year, our Junior-and-up scouts learned to decorate cupcakes while our Daisies and Brownies played games.
With a multi-level troop, a it doesn't hurt to do a little extra planning, and always be prepared for slip-ups. For example, our girls were responsible for bringing six cupcakes, but have a few of the Junior girls bring extras—just in case.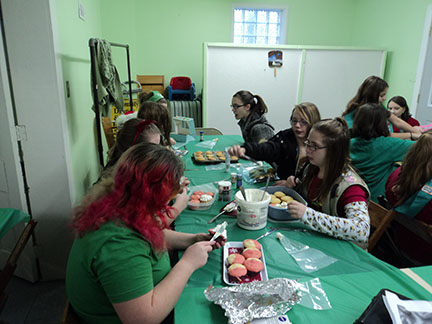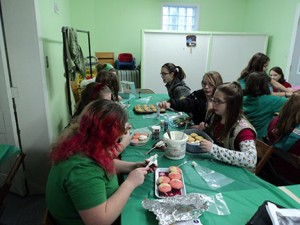 One of our troop leaders took a cake decorating class, so she agreed to do a cake decorating session with the girls. With the help of other leaders, she taught the basics—and the results were pretty and delicious!
While the older girls were decorating, we played games with the Daisies and Brownies. Each of the younger girls decorated "goodie bags" with markers and stickers.
Christmas Party Games
Candy Cane Relay
Purchase a box of small candy canes and separate the girls into teams. Construct an obstacle course (few chairs they had to walk around) called "mountains". The objective is to get the candy canes to Santa's sled across the room. As soon as one girl drops off the candy cane, the next girl started the course. The first team to finish wins!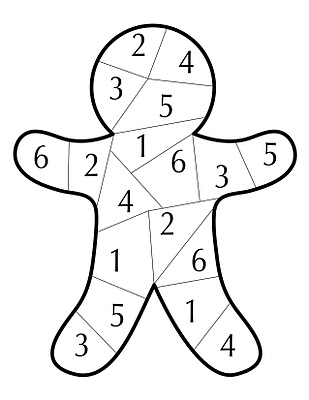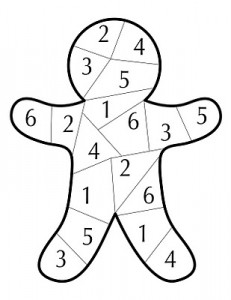 The Gingerbread Man Race
Divide each group into four: three children and one adult. The girls take turns rolling dice, and the number they roll is the box they have to color. The first girl to color the whole gingerbread man wins!
Christmas Corners
Similar to musical chairs, Christmas Corners is a great game for a multi-level troop. Create four images: a snowflake, Santa, stocking and Christmas tree. Place one image in each corner of the room. Tell the girls to pick an image and stand by it. Give each girl the opportunity to move to another image or stay where they are. Allow the girls that were eliminated to take turns drawing the next elimination. Continue until only one remains. You can also eliminate one image as you get down to fewer girls, but keep the last few girls separated so only one girl wins.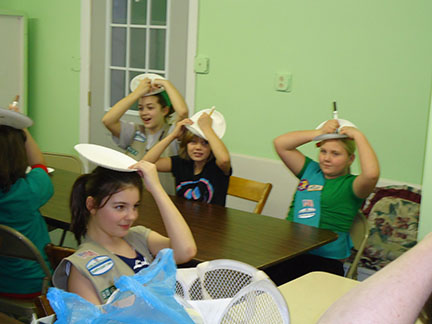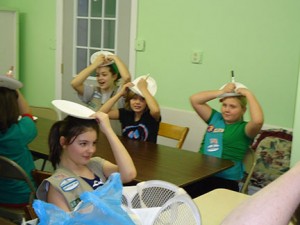 Draw your own Christmas Scene
Place a blank paper plate on your head and without looking at plate follow the directions below:
1. Draw a line for the floor.
2. Draw a Christmas tree. Add decorations
3. Draw a star on top of your tree.
4. Draw a fireplace with a mantle next to the tree.
5. Draw a stocking hanging from the mantle of your fireplace.
6. Draw a present below the tree.
After the six steps have been completed, let everyone behold their masterpieces!
Tally up points:
2 points if your stocking is touching your mantle.
1 point if your star touches your tree.
1 point if your star is above your tree.
1 point for every Christmas ornament ball that is ON your tree, etc.
1 point if your fireplace doesn't touch the tree (it's a fire hazard!).
1 point if you actually drew something decorative on your stocking (or something cute,
2 points if your present is under your tree.
Another version better suited for younger girls:
Draw Your Own Snowman
Draw a line for the ground.
Draw a large snowball for the base.
Draw a medium snowball on top of the base snowball.
Draw a small snowball for the head.
Draw a carrot nose.
Draw a two eyes and a mouth of dots.
Draw a scarf at the neck.
Draw two stick arms.
Draw a top hat on top of the head.
Rank points like the tree game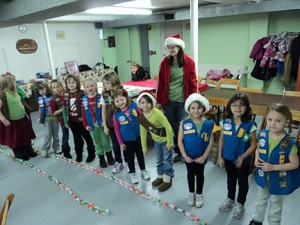 Christmas Garland Hunt
Divide the girls into two teams. Pre-cut strips colored paper and hide them around the room. Each team has a leader/parent to help tape the paper garland together. Girls are only allowed to pick one piece of paper up at a time, and aren't allowed to look for the next strip until it's taped on. The longest garland wins! Give the winning team two pieces of candy, and one for the losing team.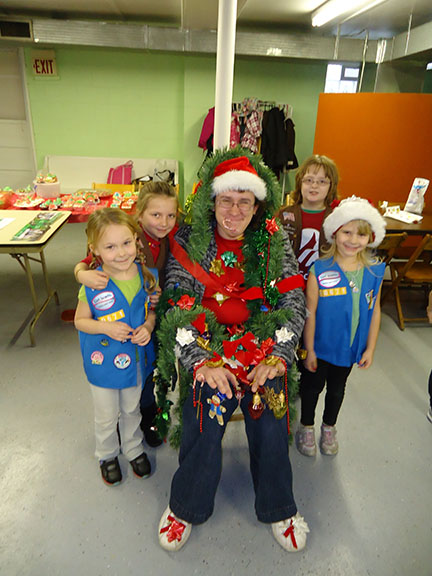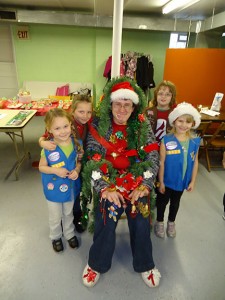 Christmas Tree Decorating (Leader Style)
Gather a variety of Christmas decorations such as bows, garland, ribbon, ornaments and beads. Choose a leader (or leaders) to be the Christmas Tree. Separate the girls into three teams and choose three mothers to be the trees. Put all the decorations on a table have the girls decorate their "tree", one decoration at a time, until there's nothing left on the table. At the end, give everyone a prize for their decoration! Make sure to take pictures with their tree – this makes a great Christmas card photo.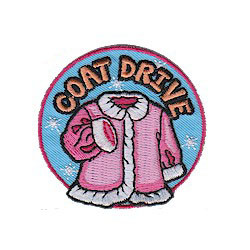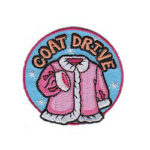 Troop December Service Project
This year for our December service project we had everyone bring in winter jackets for boys, girls and adults. We donated the jackets to our local home safe program to give to family's in need this holiday season.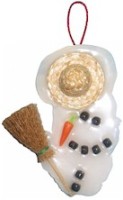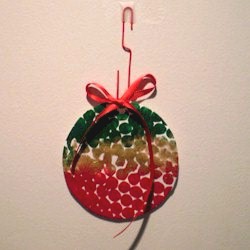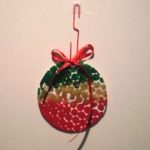 MakingFriends®.com has additional ideas for your holiday and seasonal crafts and activities. This page has links to a lot of SWAP and craft ideas as well as free printables and fun patches for your holiday celebrations.