Submitted by Jodi of Troop 50332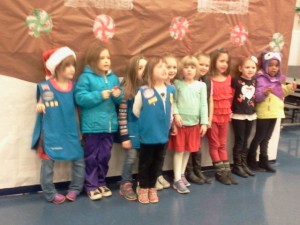 Confessions of a new leader:
Are you on the fence with becoming a new Daisy Scout Leader? So was I!
Starting the year with Daisys as a first time scout leader, I was very nervous. It's hard for me to speak to a group of people so I'll admit I almost backed out of it. At the beginning the girls were too scared to even say their name to me! I learned that I too had to be Courageous and Strong for them to really blossom.
After only a few meetings, my daughter and I made new friends and had so much fun, she is already looking forward to joining next year! I plan on staying as a leader for not only her, but for my youngest when she is old enough to be a girl scout too.
Small Budget – Big Ideas
With each daisy petal the girls love doing a craft. We save items from home and bring them in to save money and recycle. I have learned nothing goes to waste as a Girl Scout! At one meeting the girls wanted to earn the Considerate and Caring Petal, so everyone saved toilet paper rolls and we gathered cotton balls to made a snowman out of the supplies.  The girls took turns passing out the glue sticks and cotton balls to each other. After they were done with craft, they had to say who they cared about and why, and that would be who they gave their snowman to. One scout said she cared about her mom because she made her food. It was amazing to hear everyone open up and share who they cared about and why.
We've only had five meetings and those scared, shy girls I mentioned at the beginning have blossomed and opened up as daisy scouts. Even myself as a shy and introverted leader has grown a lot.
If you have any doubts about being a scout leader, if you think you might not cut out for it…I am here to tell you to go for it! Girl Scouts will not only be a amazing experience for your daughter, but as a parent you will learn so much more about what you're capable of as well.