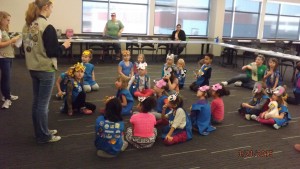 Leader help!! Looking for ideas for welcoming a new girl into an established Brownie troop. Something fun and informative. What do you do?
Scout leaders from our Facebook page had some creative suggestions for welcoming new girls into their troop:
Erika shared her troop's tradition: We would sit in a circle and pass the new vest around. Each girl would give it a hug, say something that they have enjoyed that we have done as a troop and something they are looking forward to doing as a troop. It ends with putting the vest of good wishes on the new girl. Cheesy but the girls like it.

Melissa's troop has a similar idea: When I get new girls I always have the current girls welcome into the troop by having them put on there vest and saying "welcome to the troop"

Brandy's troop welcomes new girls a different way: We made post cards with drawn self portraits and mailed them to the new girl one a day until she got one from every girl in the troop. On each one, was a gs sister's name, something she liked about scouting and one piece of I found about her.

Brownie Ways Badge In A Bag® includes everything you need to earn the Brownie GS Ways badge.

Sandie reminds us that this is an opportunity to work on a badge: Perfect time to work on GS Ways!
Several leaders suggest an investiture ceremony. Sara's troop gets to know the new girls first: I have a large ball I write questions on, "what is your favorite color?" etc., It gets tossed around the circle and each girl answer a question. This is a fun because they learn things about each other and things they may have in common to talk about. Usually after a couple of meetings I will do a candle ceremony.

Amanda has several activities to make their new scout feel welcome: Name game, make a people chain. Next meeting bring out the compliment chair.

Dawn's experience: Our troop went straight to Makingfriends® .com to find a badge in a bag kit to work with the girls. They have one for the Making Friends Badge, it was perfect for a new girl joining. It was all about getting to know the girls with games and crafts! And at the same time, the girls earned a badge.. win win!
Save