Bottle Cap Daisy Pins for Swapping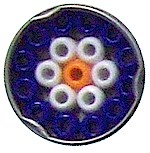 Easy to make with pony beads and glue.
You need:
Snapple Caps
Fine Point Permanent Marker
Instructions:
Squeeze a thin layer of tacky glue inside the Snapple cap. Place a yellow pony bead in the middle. Arrange six white pony beads around it. Place 12 blue pony beads around the outside. Let dry. Glue on a pin. Use a fine point permanent marker to write your name and SWAP* information on the back.